This is an archived article and the information in the article may be outdated. Please look at the time stamp on the story to see when it was last updated.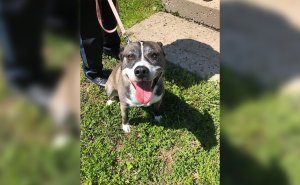 KANSAS CITY, Mo. — Kansas City police say an emotional support dog that was apparently stolen from their Northland home has been located.
Police tell FOX4 the dog has been reunited with her owner and an investigation continues into where she was and/or who had her.
Earlier on Tuesday, Abby the dog was reported to be missing after apparently being taken from the victim's backyard near NE 53rd and Bales Ave. last Wednesday at 1 p.m. while the victim was in the shower.
The fence to the backyard was found open and it isn't believed that Abby could have opened the gate on her own, according to police.
Abby was not located anywhere in the neighborhood. Police said Abby is very obedient and well trained and is the primary emotional support for the victim.
Officers say they have previously met Abby when her owner needed medical services and have partnered on numerous occasions to engage in services for him.