This is an archived article and the information in the article may be outdated. Please look at the time stamp on the story to see when it was last updated.
KANSAS CITY, Kan. — Court documents released on Thursday show police estimate the woman accused of hitting four teenagers with her car on Friday, Jan. 30, killing one, was driving at least 54 mph in a 20 mph when the crash happened.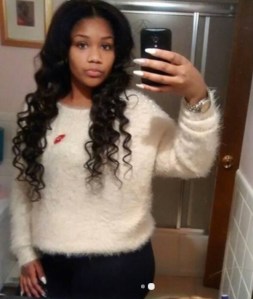 Tamika Pledger has been charged with involuntary manslaughter for the death of Tierra Smith, one of the four teens Pledger is accused of hitting with her silver Mercedes-Benz at 13th and Troup.
Smith's uncle, Morris Letcher, talked to FOX 4 on Thursday and remembered his 17-year-old niece as a typical teenager who dreamed of becoming a cosmetologist, loved her family and liked to have fun.
"Very outspoken, loud. She loved to take pictures, loved to shop," he said.
But two weeks ago, it all suddenly ended for the Raytown High School junior. She was hospitalized in critical condition for days until last Friday when her parents took their youngest child of three off of life support.
"They're devastated not knowing why and how this all transpired. We can't bring Tierra back, you can't take back the broken legs, you know, all the tension," Letcher said.
In an affidavit for Pledger's arrest, police say they learned Pledger received a call from her daughter on that Friday afternoon, telling her there was about to be a fight near the Boys and Girls Club, and she was reportedly involved.
The affidavit indicates a girl with Pledger's daughter told other teens in the group that Pledger was "mad, annoyed and advised that she was coming."
Meanwhile, according to the document, two people began fighting in the middle of Troup Avenue while others watched.  Suddenly, according to witnesses, a silver Mercedes-Benz driven by Pledger approached and people scattered.
Some witnesses told police it appeared the driver swerved toward the pedestrians. Then, according to the document, they saw bodies flying.
Police and firefighters responded to the scene and found people "hurt, crying, screaming and attempting to flee the scene."
Police say witnesses told them that when Pledger got out of her car, she said, "I am sorry. I am so sorry everyone, but I'm just protecting my family, too."
"It's just a sad situation man. I don't even have ill (will) toward her, I wish she was more apologetic," Letcher said. "She took a life. Accident or not, that's something that we cannot take lightly."
Pledger also reportedly told the crowd there that there must be something wrong with her brakes.
"My car wouldn't stop; I couldn't stop," she reportedly said.
At the scene, Pledger reportedly told people to get her phone to call for help and also to call her boyfriend, who is a firefighter, according to the affidavit.
Smith suffered head trauma and was removed from life support a week after the crash. Injuries to the three other teens include a male who suffered a broken leg, a female who also suffered a broken leg, and a female who suffered a broken arm.
The Wyandotte County Prosecutor's office has asked the judge to order Pledger to have no contact with the teens she's accused of hitting.  The prosecutor played a phone conversation in court , in which Pledger is accused discussing with a friend a "Plan B" to get the charges against her dropped or reduced. (Click here for the phone conversation recording that prosecutors played in court.)
She allegedly tells the friend in the conversation:
"What I really want to do is, if I don't get out of here, I need you guys to go on the Plan B, Plan C. My Plan B and C is to get with the family and the media… all you guys together and say, 'We will not press charges on her. We know it was an accident. We don't know why she's still in there. We're asking for them to drop the charges and let her go.'"
Police had not initially been able to identify one of the girls involved in the alleged fighting incident, to which Pledger was reportedly rushing. In the affidavit, they say the girl was with a group of other girls in a black 2008 Chevrolet Impala.  The Impala was spotted at Wyandotte High School shortly before the fight, but was told to leave by security. The group of people in the Impala reportedly waited at a bus stop near 13th and Troup for the girl with whom they planned to fight.
Pledger remains free on bond.  Before the crash, Pledger was a candidate for commissioner on the Unified Government. In a Facebook post after the crash, she said she remained on the ballot.