This is an archived article and the information in the article may be outdated. Please look at the time stamp on the story to see when it was last updated.
KANSAS CITY, Mo. — The Kansas City, Mo. Police Department is seeking the public's help in locating a suspect in multiple rape cases.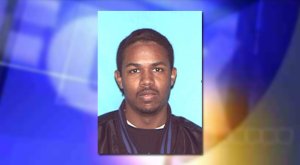 Antwan T. Crosby, 33, is wanted on aggravated rape charges. He has been named in numerous sexual assault cases throughout the city.
Police said he is known to pick up intoxicated women in Westport and Power & Light District, and may be posing as an Uber driver.
A spokesperson for Uber, Kayla Whaling, said Crosby is not an Uber driver and has never been registered in their system. Uber has posted these tips and safety features on their website for anyone using the app.
FOX 4's Shannon O'Brien went to Crosby's address listed in the court documents. A woman inside the apartment would only yell at the FOX 4 crew through the door.
"He don't live here. Would you get away from my door?" the woman said, adding, "Yeah, I knew him but he don't live here… Get away from my door. No more questions."
Court records state that the car used in the rapes was a red Pontiac Grand Prix registered to a woman Crosby knows. That car matches the description of one we found sitting outside of Crosby's Lenexa apartment.
"Stop taking pictures of that car," the woman inside the apartment demanded. When asked if that is the car that was used int he alleged rape, she replied, "no, get away from that car."
People we spoke to in Westport are scared about sexual predators lurking around Kansas City's entertainment districts, waiting to pounce on their victims who are not in a position to protect themselves.
"I feel like if I were that inebriated, I don't think I would have that sense of weariness. I think I would just go with it," said Arielle Kelly.
"I think it is a tricky situation, especially the more we become reliant on convenience I think it puts everyone in a dangerous spot," Jess Bonniwell said.
If you have information on Crosby's whereabouts, contact Crimestoppers at (816) 474-TIPS.
Information leading to an arrest and/or charges could be eligible for a reward up to $2,000. All information is anonymous.