This is an archived article and the information in the article may be outdated. Please look at the time stamp on the story to see when it was last updated.
BLUE SPRINGS, Mo. -- Paramedics took a man away by ambulance after a four-hour manhunt in which they asked people to stay away from the wooded area near Interstate 70 and Adams Dairy Parkway as they searched for the suspect who police say displayed a weapon during a traffic stop.
Police would not confirm, however, whether the suspect was wounded in gunfire with police.
Police say they attempted to pull the man over at about 5 a.m. near 2400 N.E. Coronado Drive in Blue Springs. They suspected he was driving a stolen vehicle. Police say the suspect got out of the vehicle and had a weapon. Police fired at him, but it is unknown if the suspect was wounded at that time either. Police said none of the officers was hurt. The man then ran across I-70 into the wooded area where police were searching Thursday morning. He was described as a white male with brown hair wearing a black jacket and blue jeans. Police said he should be considered armed and dangerous. The nearby Kohl's Distribution Center, 2310 Duncan Rd, was put on lockdown.
Then, at about 9:15 a.m., FOX 4's Rob Collins reported live from 23rd and Cottage, showing pictures of the massive police force there to apprehend the man who minutes before had led them on a chase that lasted 15 to 20 minutes. Witnesses say the man was firing at police and they were returning fire during the pursuit. The man was captured about 14 miles away from where he initially fled on foot. Police say during the time before his arrest, he broke into a woman's home, threatened her with a gun and stole her car.  He then led police on a high-speed-chase, reportedly driving as fast as 100 mph.
"In any pursuit or anytime we are involved in something like this, our number one priority is going to be the safety of the public," said John Syme, Independence, Mo., police officer.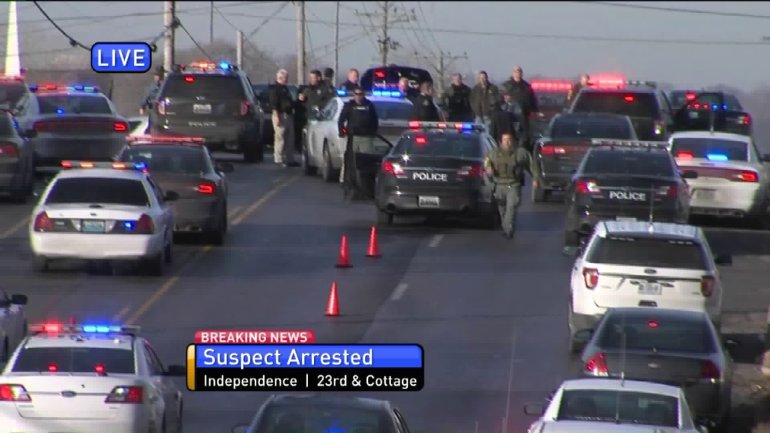 Because of the complexity of the case involving officers firing their weapons and being fired upon, Jackson County Prosecutor Jean Peters-Baker reported to the scene.
"We've seen in recent days too many dangerous situations caused by people fleeing police. Let me be clear, fleeing from police will endanger innocent members of the community, law enforcement and the persons in the vehicle fleeing police," she said in a written statement emailed Thursday afternoon. "You will not get away. Pull over, act responsibly. Do not endanger more lives attempting to avoid police. If you flee, you will face additional charges, higher bond requests. Potential charges could include felony murder, if someone dies as a result of your conduct."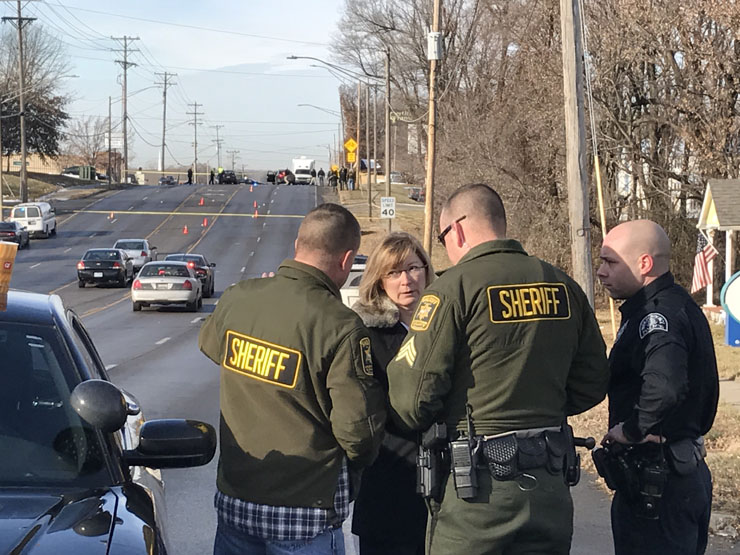 Police were asking everyone in the area to be vigilant, to keep their eyes open for the suspect. Those living and working in the area are asked to lock their doors. Thankfully, schools in the area are not in session. Police warn there could be traffic tie-ups because their search is close to I-70. Look for more on FOX 4 newscasts throughout the morning and afternoon as police continue their search. The story will be updated with new developments and pictures on the fox4kc app and Facebook page.
*Original reports were that the man fired gunshots at the police officer, but at 7:37 a.m., FOX 4 received a news release from Blue Springs Police saying:
'The suspect exited the vehicle at which time he displayed a weapon. Shots were fired by the officer. The suspect fled the scene north across Interstate I-70'.
Earlier report: