This is an archived article and the information in the article may be outdated. Please look at the time stamp on the story to see when it was last updated.
KANSAS CITY, Mo. — A man allegedly waving a large sword was shot and critically injured by police at a Kansas City, Missouri park on Thursday evening.
Authorities say that the suspect, identified as a male in his 20's, was swinging the sword at vehicles and people at Blenheim Park in the 7100 block of Highland around 5:00 P.M. on Thursday.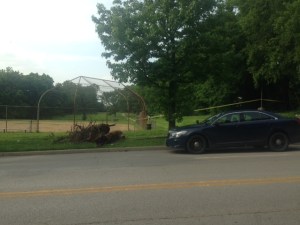 According to Kansas City Missouri Police, the suspect was ordered to drop the sword but refused. He was then shot once in the torso by an officer.
The suspect was taken to an area hospital in critical condition.
He was standing on the corner swinging hitting cars,  diving in traffic, " said witness Tony Peak.
Peak says the man had been running throughout the neighborhood for hours but when he came back through, he threatened to strike a neighbor with a sword he was swinging and that neighbor called 911.
"He started running in circles, took off his clothes. He was going crazy. Going nuts," witness Kechelle Herring said.
Families say the suspect then ran into Blenheim Park and minutes later police got on scene.
"She told him multiple times to halt, to comply, he was not listening at all," Peak said.
Witnesses say several shots were fired and then the suspect fell down seemingly lifeless. Witnesses we talked to believe the suspect was holding a large pipe, and not a sword as reported by police.
"It looked like a pole or a long stick. Metal pipe or something," Peak said.
"It was a long metal object from my perspective, it was a pipe," Herring said.
The police officer, identified only as a female officer, was placed on routine administrative leave following the shooting. There were no other injuries reported in the incident, which remains under investigation.