This is an archived article and the information in the article may be outdated. Please look at the time stamp on the story to see when it was last updated.
KANSAS CITY, Mo — Friends of 24-year-old Ta'Ron Carson are trying to come to grips with his senseless murder.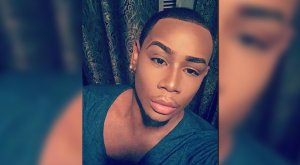 Carson's killing sent fear throughout the gay community that it could be a hate crime. Investigators on Tuesday afternoon said they have determined that Carson was not the intended target of the shooting, adding that they are still investigating the incident and hope to locate the suspect soon.
Those who know Carson said he is the last person they would think something like this would happen to. He was shot and killed near the corner of 39th and Main after leaving club Aura early Sunday morning.
Brittany Bronson said she was with Carson, who friends also call Rio, and said goodbye to him after they left the club at closing. When she got to her car, she heard gunshots and turned around to see what happened.
"I saw my boy, I say Ta'Ron, I saw Rio, I saw my boo," Bronson said through her tears. "I saw him on the ground, like, I saw him. I saw him go."
Police said as Carson was standing near the corner when a black SUV pulled up, two people got out, and started shooting.
Described as a bright light, his friends say Carson's death is a big loss to the community. A proud, black, gay man is how friends describe Carson.
"In gay vernacular, particularly in black gay vernacular, there is a term called "beating your face" and so Rio would always be beat for the gods," said friend D. Rashaan Gilmore. "That is just powder, pad, getting your face together, because he was beautiful."
Friends say Carson was as beautiful on the inside as he was on the outside.
"The beauty of Rio is that because of how he lived his life, it helped to free others to live their lives in that way," said Gilmore.
Bronson agrees. "Rio, he loved himself, and in loving yourself you are able to love so many more people," she said.
Police are looking into whether or not Carson's killing was a hate crime. The FBI has been briefed and is following this case, but is not officially involved.
If you have any information that can help catch Rio's killer, call the TIPS hotline at (816) 474-TIPS. All calls are anonymous.
There is a candlelight vigil for Carson planned for Tuesday night from 6 – 8 p.m. at the Center for Spiritual Living, 1014 West 39th Street. The group meets there at 6 and then will be walking over to the site where Carson was killed.