This is an archived article and the information in the article may be outdated. Please look at the time stamp on the story to see when it was last updated.
NEAR WARSAW, Mo. – A family spokeswoman said a pond that is near an area where items of Hellen Cook's clothing were found is being drained. Terri Cook said the draining process started on Saturday afternoon and will take at least two days to complete. Family and volunteers have been searching for nearly three weeks since Cook, who has Alzheimer's, went missing.
A release sent in by the family indicated that a dog team searched the woods surrounding the pond in addition to a mule team, which searched a wider area around the pond. It also said that the Army Corps of Engineers had planned to drain the pond sometime this year. Therefore, the Benton County Sheriff's Office requested it be done sooner to determine whether or not Cook was in the pond.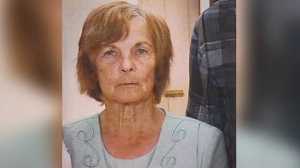 A professional search and resuce team, Task Force 5, has also volunteered its services and is coordinating a date with the Benton County Sheriff's Office to assist. The family said they hope that it happens within a week.
Cook went missing from the family's lake home near Warsaw on July 13 after walking off while her husband was doing yard work. If you see Cook, contact Benton County central dispatch at (660) 438-9555. More information can be found on a Facebook page dedicated to her called: Find Hellen Cook.