This is an archived article and the information in the article may be outdated. Please look at the time stamp on the story to see when it was last updated.
INDEPENDENCE, Mo. – An on-duty police officer said he walked into an Olive Garden for lunch Sunday afternoon when he was asked to leave because of his gun. He said it happened at the restaurant in Independence off of Noland Road. Now, Olive Garden is apologizing.
Kansas City Missouri Police Officer Michael Holsworth took to Facebook to explain what happened.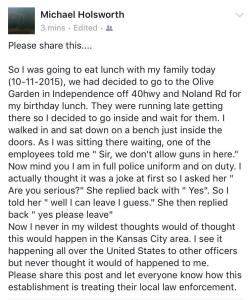 "I walked in and sat down on a bench just inside the doors. As I was sitting there waiting, one of the employees told me, 'sir, we don't allow guns in here,'" he wrote.
Holsworth went on to write later in the post "I never in my wildest thoughts would of thought this would happen in the Kansas City area."
The restaurant chain quickly got word of the incident and reached out to Holsworth to apologize. Rich Jeffers,Olive Garden Spokesperson, said the president of the company, Dave George, called the officer by phone to apologize for the incident. Jeffers said it was not a member of management who told the officer to leave, but a hostess.
Holsworth said he was going to eat with his family for a birthday lunch. Once the incident was resolved he issued a statement that read:
"My experience today at Olive Garden was extremely unfortunate. I posted on Facebook about the treatment I received because I did not want other officers to be subjected to the same embarrassing situation that occurred today. I had hoped to simply enjoy an uninterrupted birthday meal with my family.  I never believed I would be asked to leave a public restaurant because I was in full police uniform which requires me to carry my duty weapon. It is my hope that Olive Garden handles this situation appropriately so no other officer has the same experience I had today. I ask that the media and others respect my privacy and devote their attentions to altering the general narrative about police officers in a more positive direction so this type of situation does not occur in the future."
The news of the incident quickly hit and spread across social media, sparking outrage on Olive Garden's Facebook and Twitter pages. The company responded to one tweet saying the incident was a misunderstanding and that law enforcement are always welcome to come dine at the restaurant.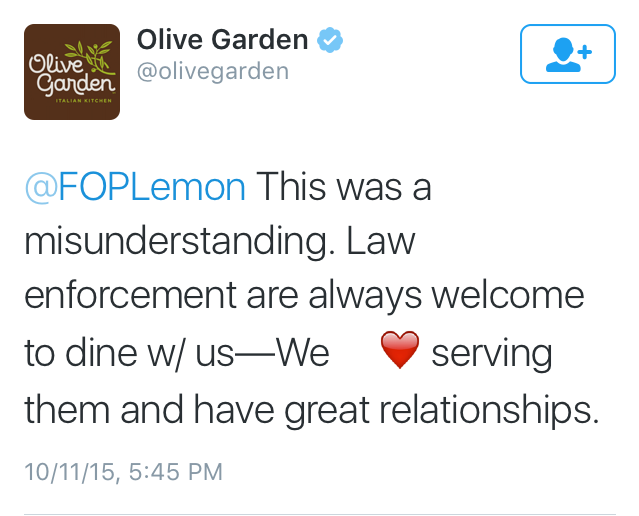 Police Chief Forte took to Twitter and said he was also working to get information on the incident.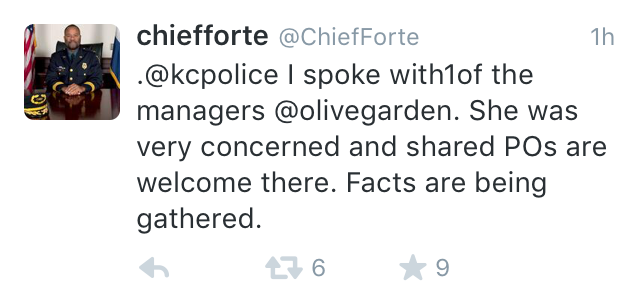 Jeffers said when it comes to conceal and carry, Olive Garden "follows whatever the local law allows as it relates to civilians." He said police officers are always welcome inside with their service weapons.
Previous coverage: