This is an archived article and the information in the article may be outdated. Please look at the time stamp on the story to see when it was last updated.
BLUE SPRINGS, Mo. — Longtime voter Connie Knowles experienced a first at the polls Tuesday.
"It was different. We got to vote in the dark, and those that had cell phones could use their lights on their phones," Knowles said.
According to Kansas City Power & Light, at the height of the outage, at least 3,000 customers near 7 Highway and Interstate 70 were without power, which included homes, businesses and polling places.
"We've experienced some power outages at some polling places, but they`re working through that and you`re still able to vote there," said Corey Dillon, Democratic director for the Jackson County Election Board.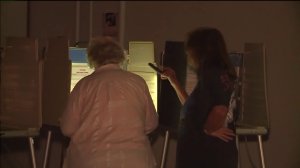 Jackson County voters use paper ballots, so the outage didn't prevent them from being able to cast a vote.
Over in Johnson County, Kansas, equipment issues at the beginning of the day made for a slow and frustrating time as people tried to vote first thing.
"The poll pads sometimes had a beaming up problem and getting synchronized and so forth," Johnson County Election Commissioner Ronnie Metsker said.
And several of the counties' brand new voting machines jammed as voters were trying to submit their picks.
"We had a few problems with the paper ballots getting caught in the pathways within the machine or within the secure ballot container. So we`ll work toward getting a permanent resolution for that," Metsker explained.
Election officials say all of the equipment bugs were fixed by 10 a.m.
"I had seen a couple of things on Twitter, but that was earlier in the day. So maybe they got all of those glitches figured out, but this location there was actually no problem at all," Zach Stangel said.
The Johnson County voter liked the new machines and is glad the county made the switch.
"I thought they were great. The typeface was really easy to understand, didn't take long to scan it. Everything seemed to work really well," Stangel said.