This is an archived article and the information in the article may be outdated. Please look at the time stamp on the story to see when it was last updated.
PRAIRIE VILLAGE, Kan. — Two men are accused in a crime spree that stretches hundreds of miles, but a metro business owner may have the break in the case that police need. The suspects have hit at least five local businesses in the last couple of weeks. Owners are scared for their safety but more than that, they're angry. Now, they're speaking up.
"To actually see them on camera doing it and to be powerless to be able to stop it," said Casey Ward.
It's the hardest pill for owner Ward to swallow. Over the past couple of weeks, she's noticed these two men in her store spending hours at a time. Slowly she started to notice gold and sterling disappear.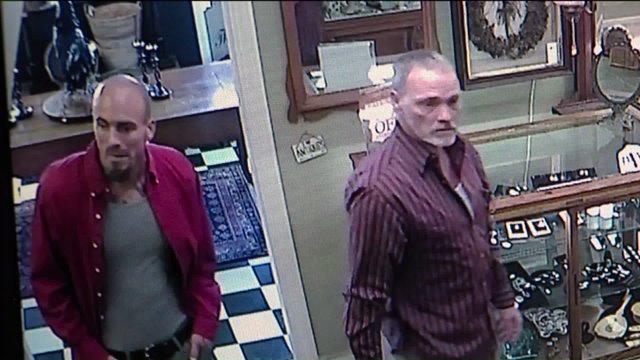 "They're predators. They go from place to place like this," she said.
On Friday, an employee here got a call from her bank. Her credit card was stolen and thousands of dollars had been spent all over the metro. Ward checked the security camera. Footage shows one of the men walking into the room where her purse was stashed and stuffs her wallet down his pants.
"There they go. Out the door," she showed FOX 4's Megan Brilley.
Ward posted a screenshot from her surveillance footage on Facebook. Hours later, more than 2,000 shares and hundreds of comments.
"So many people shared that post. They were coming every single hour," she said.
Ward started getting emails and calls from disgusted business owners all over the metro. From Columbia all the way to Prairie Village and Olathe, the two men have been caught on camera, stealing wallets, purses and antiques.
"It makes you feel really vulnerable," Ward said.
They all want you to take a close look so it doesn't happen to anyone else.
"Let's get em'! Let's try. That's what you want more than anything. When someone does this to people. You want to see them caught."
The suspects were seen leaving the antique mall driving a white pick-up truck. If you know anything about this, call Prairie Village police at (913) 642-6868.