This is an archived article and the information in the article may be outdated. Please look at the time stamp on the story to see when it was last updated.
DENVER, Colo. — An unidentified prankster targeted the Colorado state capitol this week. The prankster placed a portrait of Vladimir Putin in an empty space intended for a portrait of President Donald Trump.
Putin's portrait was placed on an easel underneath a wall of presidential portraits. There is a portrait for every American president up to Barack Obama. State senator Steve Fenberg, a Boulder Democrat, tweeted a picture of the impostor portrait before an alert tour guide noticed it and removed it.
According to Colorado Citizens for Culture, the group that pays for the presidential portraits, the pictures cost about $10,000 to produce. All portraits are paid for through donations. The group, at this time, has not received enough money toward a portrait of President Trump, leaving a vacant spot on the third-floor rotunda in Denver. The prankster decided to take advantage of that empty spot and have some humor at the current political zeitgeist.
Neither the police nor the capitol have released any statements on whether they are seeking the prankster or if the person would face any punishments.
Since news has spread about the portrait, two donors have chipped in money for the project — totaling $45 as of Saturday afternoon.
The president of the group, Jay Seller, said it took four months to collect money for the presidential portraits of Obama and George W Bush.
President Trump has been in office for 18 months. He was inaugurated in January 2017. Intelligence agencies are investigating how Russians meddled into the 2016 presidential election, many pointing to Putin as directing the interference.
On July 16, 2018, Trump and Putin staged a private meeting and joint press conference during a summit in Helsinki, Finland. Following the meeting, President Trump was subject to criticism at home from both Republicans and Democrats for his refusal to make public what was discussed behind closed doors. He took the Russian leader's side, initially denying the extent of meddling the FBI claims happened.
The day after the summit, Trump said he accepted the conclusions of US intelligence agencies, though he added: "It could be other people also. There's a lot of people out there."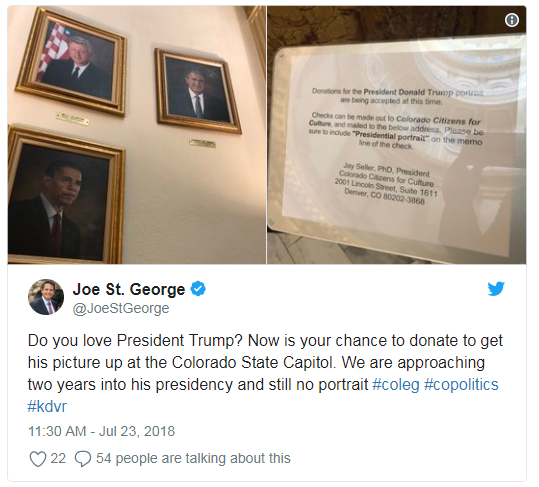 On Sunday, President Trump doubled down that there was no Russian collusion and that the real fraud took place with presidential candidate Hillary Clinton.


Putin said at a summit in Johannesburg Friday that he is ready to go to Washington D.C. to meet with President Trump. The Russian president has also invited Trump to visit Moscow. The White House has not responded to questions about Putin's invitation to Moscow. On Wednesday, the White House said that Trump's Washington meeting with Putin has been delayed until 2019, citing the ongoing probe into Russian interference.
The White House also said President Trump directed National security adviser John Bolton to invite Putin to visit Washington in the fall. Several Congress members objected to the two leaders meeting again so quickly.
Secretary of State Mike Pompeo said Wednesday, prior to the White House announcement, that the US would never recognize Russia's annexation of Crimea and that the United States demands that Ukraine's territorial integrity be restored. The statement was released before Pompeo appeared before the Senate Foreign Relations Committee, where he testified he has told top Russian officials that there will be "severe consequences" for any interference in US elections.
President Trump reassured the American public last Tuesday, "We're doing everything in our power to prevent Russian interference in 2018."
But Sen. Mark Warner disagrees. Warner is the top Democrat on the Senate Intelligence Committee. He said the White House is slacking in its role.
"I think it's an embarrassment that this White House has not made election security a top priority and has not put the kind of attention and focus on it that we need," Warner said on CNN's "State of the Union."
Guidance from the White House on an issue like this would normally come from the West Wing's NSC. Intelligence and congressional sources tell CNN that isn't happening.
"There's no overall strategy, there is no one in charge. You have a lot of disconnected, discombobulated efforts that are quite frankly dysfunctional," said Brett Bruen, the former White House director of global engagement in the Obama administration. He has criticized that administration for not taking a potential threat serious enough.
The Department of Homeland Security, which says it is the lead agency on electoral cybersecurity efforts, insists the agencies are "very interconnected" in their preparations for the 2018 midterms.
Social media companies are looking for guidance on how to prepare for midterms. Russian disinformation campaigns targeting Americans were rampant in the 2016 election, including heavily on Facebook and Twitter. Meanwhile, top security officials said there has been too much focus on Russian interference and not enough focus on false information spread by people within the United States.