This is an archived article and the information in the article may be outdated. Please look at the time stamp on the story to see when it was last updated.
KANSAS CITY, Mo. -- It was a heart-wrenching afternoon for Eric and Paula Carter as they mourned their 18-year-old son, killed earlier this month in Kansas City.
"It's completely torn us apart," Eric Carter said Monday.
"I can't even describe to you the pain," Paula Carter said.
The Carters, their relatives and several concerned citizens joined KC Mothers In Charge near an empty lot at 33rd and Brooklyn in Kansas City.  It's where police say in broad daylight on June 10 that someone shot and killed 18-year-old Jashon Bowie as he sat in a burgundy car.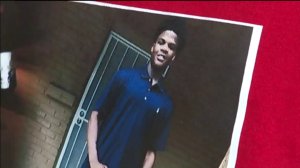 "We believe he may have been with two guys. We just don't know anything and need people to come forward, say something and give us peace and justice for our son," Eric Carter said.
As of Sunday night, there have been 52 homicides in Kansas City.
"Jashon just turned 18. He was his parents' baby, and no one has spoke up yet," Rosilyn Temple with KC Mothers In Charge said during Monday's prayer vigil.
"A lot of these murders are happening because of the drugs in our community. Families are turning a deaf ear, and many times people just will not speak up. Summer starts in a few days, and my biggest fear is that the community is gonna keep on being silent," a frustrated Temple said.
The Carters just want any possible witnesses to call Kansas City police.
"We are praying and we are leaving everything in God's hands," Eric Carter said.