This is an archived article and the information in the article may be outdated. Please look at the time stamp on the story to see when it was last updated.
KANSAS CITY, Mo. — More than a thousand people packed the Uptown Theater Wednesday to hear President Barack Obama speak in Kansas City, Mo. The topics most prevalent in the President's speech: the economy, healthcare and Congress, of which he dealt a few jabs.
"It's always good to spend a little time in Kansas City," Obama said in the beginning of his speech. He joked about Arthur Bryant's running out of coleslaw Tuesday night during his dinner date with four Missouri residents.
One of those who ate dinner with the President was Butler, Mo., resident Victor Fugate, who introduced the President on Wednesday. Fugate had written a letter to Obama, and in his speech, the President addressed some of what Fugate discussed.
"Victor wrote to tell me about his life in Butler, and he told me he had been unemployed for a while after he and his wife had their first child, but he refused to quit. He earned his degree, found a full-time job. He now helps folks with disabilities live independently."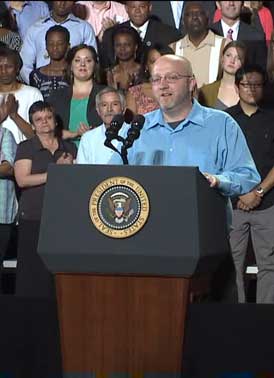 President Obama said Fugate credited his Christian faith and determination for getting him through tough times. But there was something else that has helped the Fugate family as well, Obama said.
"He also said he was able to afford health insurance because of the Affordable Care Act. And he also said that because of the income-based repayment plan that we had put in place, where you only have to pay 10 percent of your income — maximum — in repaying your loans each month, that was what allowed him and his family to keep a roof over their heads and support themselves."
President Obama said it's people like Fugate for whom he's fighting in Washington.
"Victor is the sort of person I'm working for every single day — somebody who never quits, somebody who's doing everything right, somebody who believes in the American dream, somebody who just wants a chance to build a decent life for himself and his family. And that's the vast majority of Americans, that's who I'm fighting for right here in Kansas City and all across this country. That's why I ran for President in the first place, to fight for folks like that."
The President discussed unemployment and the improvements made in recent years.
"The unemployment rate at its lowest point since September of 2008. It's dropped faster than any time in 30 years. This morning we found out that in the second quarter of this year, our economy grew at a strong pace. Businesses are investing. Workers are building new homes, consumers are spending. Americans are exporting goods around the world."
President Obama said Americans have good reason to be optimistic about the country, but he also said he wants to see Congress more willing to work with the Obama administration.
"We could do so much more if Congress could come on and just help out a little bit. Stop being mad all the time. Stop hating on the time. Let's get some work done together."
One of the changes the President wants made is a raise in minimum wage. He said while the cost of living has increased, minimum wage hasn't increased in over five years.
"Republicans in Congress keep blocking or voting down just about every idea that would have some of the biggest impact on middle-class and working-class families," Obama said. "They said 'no' to raising the minimum wage. They said 'no' to fair pay — to making sure women have the ability to make sure they're getting paid the same as men for doing the same job. They said 'no' to fixing our broken immigration system. Rather than investing in education, they actually voted to giving another massive tax cut to wealthy Americans."
That's not good enough, Obama said.
"They haven't been that helpful. I wish they would have been more constructive."
Obama said he wants to harness the spirit of the American people — people like Victor Fugate — and bring it to Washington.
Outside the Uptown Theater, about 100 protesters stood on the opposite of the street holding signs.
"This is the first time I've ever protested in my life," Clayton Ernsbarger said. "But I've had it up to here with the executive orders, with what's going on at the border, and I think average Americans need to stand up and be counted and send a message."
Before his speech, the President gave a special shout-out to Rep. Emanuel Cleaver, D-Mo., and Missouri Gov. Jay Nixon.
Other recognizable members of the audience included members of the Corporon family and the LaManno family, who lost Dr. William Corporon, Reat Underwood, and Terri LaManno when they were shot outside The Jewish Community Center and Village Shalom in Overland Park on April 13.