This is an archived article and the information in the article may be outdated. Please look at the time stamp on the story to see when it was last updated.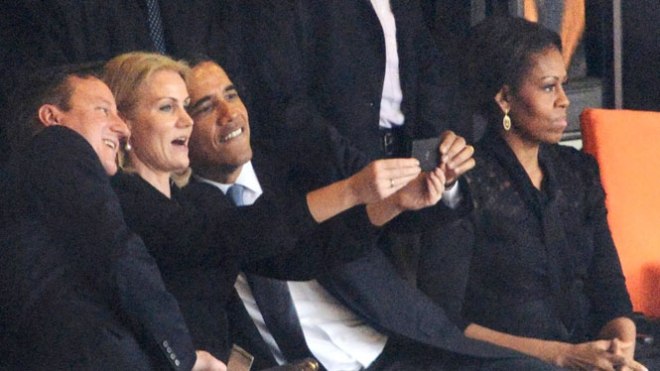 Have you heard of the term funeral selfie? It's exactly what you think. People take pictures of themselves at funerals. It's mostly teens — kids too self-absorbed to understand the magnitude of death.
Well, President Obama can be added to the list of those who've snapped a photo of himself at a funeral.
He, along with the British and Danish Prime Ministers, posed for such a photo at Nelson Mandela's memorial service. First Lady Michelle Obama is also in the photo, although she's pictured looking forward, uninvolved in her husband's shenanigans.
It's not the selfie itself that is circulating, incensing some on social media, but a picture of them taking the picture. And for the record, it appears it was Danish Prime Minister Helle Thorning-Schmidt who took the picture.
So why take a group picture at a funeral/memorial service? Well, those who turned out for Mandela's memorial service were reportedly sitting in a stadium for four hours. That had to be boring. World leaders apparently do what we all do when there's nothing else to do. We whip out our smartphones.
Perhaps Nelson Mandela would have too. Mandela was man who forgave others for some of the cruelest acts against mankind. Surely he would forgive this too. Maybe he would even say there's nothing to forgive. It's just a picture after all.