This is an archived article and the information in the article may be outdated. Please look at the time stamp on the story to see when it was last updated.
KANSAS CITY, Mo. — People and businesses throughout the metro wanting to help Detective Brad Lancaster's family financially can make donations in a few different ways.
The latest effort to collect money to help meet the family's needs comes from Price Chopper. All 51 Price Chopper locations will be accepting donations through Wednesday, May 18.Click here to find your local Price Chopper

"We want to make sure that everyone who comes in the door has the opportunity to give, and the family feels the love of Kansas City," Price Chopper's director of marketing Casie Broker said. "So any role we can play to help to make sure that they know that and help meet the needs that they have in the wake of the tragedy, we want to do that."
Detective Lancaster was a 9-year veteran of the Kansas City, Kan., police department. He was shot and killed on Monday while assisting fellow officers near Hollywood Casino.  The Wyandotte County district attorney filed a capital murder charge among other charges against Curtis Ayers, 28, accusing him of fatally shooting the detective.
In addition to the Price Chopper collection, a memorial fund has  been established for the Lancaster family. Contributions can be made at any branch of the Greater KC Public Safety Credit Union or the Kansas City, Kansas Police Headquarters. Credit union branch locations include: 2800 E. 14th Street and 8320 N. Brighton Avenue.
Local business Cumpy's T-shirt Shop is helping by selling Kansas City, Kan., Police Department tribute hats.The hats are $25 and a portion of the proceeds will be given to the Brad Lancaster memorial fund. Hats are available online only.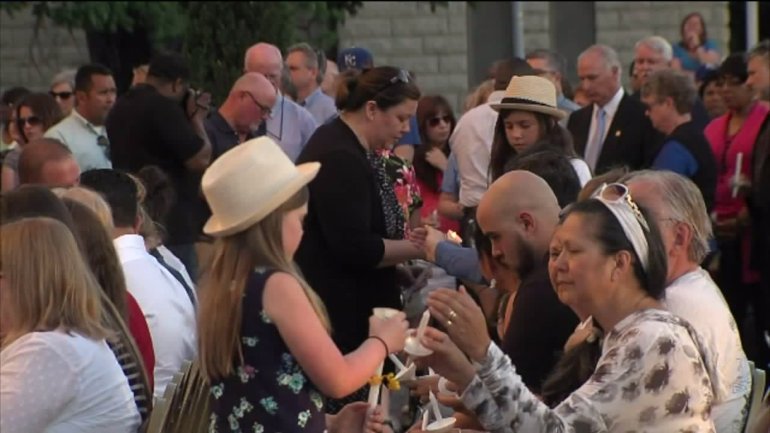 Funds raised will go to his wife and two young daughters. Lancaster, who graduated from West Platte High School was also an Air Force veteran.  Lancaster served two tours of duty overseas while in the Air Force. He worked briefly for the Platte County Sheriff's Department before moving to the Kansas City, Kan., Police Department.
The Lancaster family has invited the media to attend Det. Lancaster's family so that the community can participate in honoring him. FOX 4 will livestream the service at 11 a.m. on Saturday. Look for it on fox4kc.com and the fox4kc app.