This is an archived article and the information in the article may be outdated. Please look at the time stamp on the story to see when it was last updated.
Update: Since this story first aired, landscaper John Cazzell has repaid $1,000 of the $5,000 he owes Tom and Susan Guiffre. Cazzell continually blames a slowdown in work for failing to return all of the money he owes. As of January, Cazzell promised he'd pay the remainder in the next 60 days. Rest assured, FOX4 Problem Solvers plans to hold him to that promise. 
LIBERTY, Mo. -– Flowers, lights, stonework: Those were decorative elements that Tom and Susan Guiffre were hoping to add to the front of their home. They thought they'd hired the perfect man for the job.
Boy, were they wrong.
"We figured if he's been in business for 50 years, he's got to be doing something right," said Tom Guiffre, referring to John Cazzell, the owner of Four Seasons Lawn and Landscape.
Cazzell drew up a landscaping plan that he promised would give the Guiffres the yard they'd always wanted. That was in March. Cazzell was to start work by mid-May.
So how'd it turn out? The Guiffres have no idea. After handing Cazzell his required $5,000 deposit, he never even started the job.
"That is embarrassing," said Susan Guiffre, who joined her husband in retirement this year. "You never think that will happen to me, and then it happened."
For months, the Guiffres emailed, texted and called Cazzell. He never returned a single message. But on occasion they'd get lucky,and he would answer the phone.
When he did, he always had an excuse.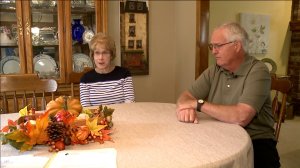 "Too rainy, too hot or you are on the schedule for next week," Tom Guiffre said. "Next week would come and go and you would never hear from him."
By July — three months after the Guiffres landscaping was supposed to have been completed — the Liberty couple asked for their money back.
"We want the check that we gave you," Tom Guiffre said he told Cazzell. But Cazzell told them he couldn't afford to return the money.
The Guiffres, who back then still liked Cazzell and felt sorry for him, offered to work out a payment plan. They agreed to accept $500 a week. Cazzell made the first payment, but never made another one.
It turns out Cazzell's 50 years in business are far from trouble free. He has been sued more than 30 times, according to Missouri court records. He almost always loses and never bothers to pay the judgment, according to court records.
He's also got an F rating with the Better Business Bureau.
FOX4 Problem Solvers paid a visit to the business address Cazzell listed with the Missouri Secretary of State's Office. It's an empty lot in Parkville. We also visited his Parkville home, but no one answered the door.
A visit to a second business address on Vivion Road paid off. Although Cazzell wasn't there, Problems Solvers spoke to his landlord (who is also owed money by Cazzell).
The landlord told Cazzell we were looking for him. Cazzell called us later that same day.
Cazzell blamed the Guiffres. He said he was "just about" to install their landscaping when they fired him.
We asked when the Guiffres could expect their money back. He said he'd have it by Dec. 1. We'd like to believe Cazzell, so we're going to wait until December to see whether he keeps his word.
Meanwhile, the Guiffres hired a new landscaper who finished the job in two weeks. Plus, he didn't ask for a dime until after the work was done.