This is an archived article and the information in the article may be outdated. Please look at the time stamp on the story to see when it was last updated.
BONNER SPRINGS, Kan. — There are no two ways about it. It's a muddy mess in John Powell's backyard.
"He destroyed my home," said Powell, who lives with his wife Jennifer and their two children in a split-level home in Bonner Springs.
Powell's frustration is directed toward Gene Cole Swain — the contractor he hired to fix the drainage at his home and pour a new concrete walkway, patio and back driveway.
The nearly $20,000 job was supposed to be completed last summer. But after tearing out the old concrete and laying new irrigation pipes, the Powells said Swain disappeared.
"I'll be there tomorrow," John Powell said Swain constantly promised.
Tomorrow never came, but the excuses did.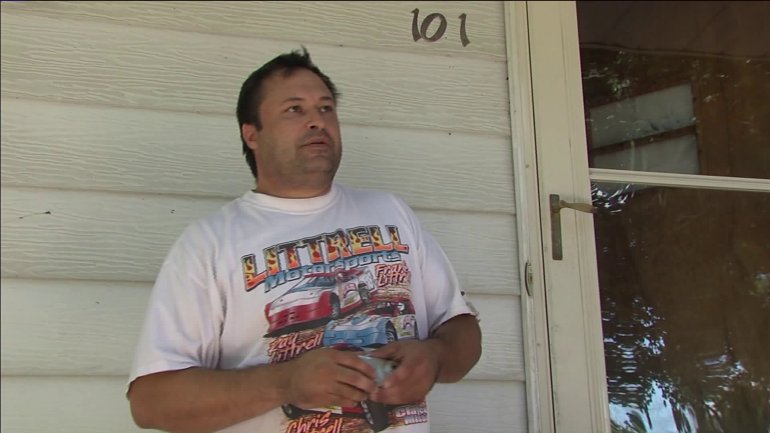 "He told me he was a diabetic," Powell said. "Then he had a dental appointment. He was sick. Somebody sideswiped his car."
By the time Powell started having serious concerns about Swain, he had already paid him $14,000 — three of the four installment payments on their contract. Powell said he would have never made the third payment, but Swain said he needed the money to start pouring the cement.
"He held us hostage," Powell said. "'Hey, I don't have enough money to get this done if you don't pay for this.'"
But even after Swain had the money, they never got the cement or the stone for a retention wall that Swain told Powell he had already paid for and was storing at his home.
Powell's experience with Swain was almost identical to complaints the FOX 4 Problem Solvers team has been hearing about Swain for years.
We've been tracking Swain since 2012 after multiple customers blamed Swain for taking their money and never finishing the work.
In 2007, Swain was convicted of defrauding an elderly man in a home improvement scam. He's also been convicted of passing bad checks.
In 2013, the Johnson County, Kansas, District Attorney's office banned Swain from ever operating a business in that county again after two homeowners were defrauded by Swain. The DA referred to Swain's business practices as "deceptive and unconscionable."
It's not easy to find Swain, but in 2012, FOX 4 managed to catch up with him at the home where he was then living. He blamed his customers for all his problems.
"Occasionally, I get someone who doesn't want to pay," Swain said.
That, however, doesn't explain a court judgment ordering him to pay a customer $4,500 for work he never completed.
"That wasn't accurate," said Swain who said he would have won the case but was unable to go to court because his mother was in the hospital.
Swain also maintained he never defrauded an elderly man — though a judge convicted him.
For several years, Swain disappeared from FOX 4 Problem Solvers' radar. But now he's back and operating under the name Bulldog Masonry Design.
John Powell reported Swain to Wyandotte County District Attorney Mark Dupree. But Powell said Dupree's office wasn't interested.
"I told him, 'Sir, this guy has done this before. Somebody needs to stop him,' and he said the only thing I could do was to take him to small claims court," said Powell who knows it would be difficult finding Swain to sue him and probably impossible to collect a judgment from him if he won.
Problem Solvers later contacted the district attorney's office, who said it was unaware of Powell's initial complaint and is now looking into the problem.
FOX 4 tried to talk to Swain at a Northland home listed as his business address with the Better Business Bureau. Swain was standing in the driveway when we pulled up but ran inside when he saw us.
He sent a woman outside to cover for him. She told us Swain wasn't there. When we told her we had just seen him, she said he must be in the backyard. She returned a few minutes later telling us she had no idea where he was.
So watch out Wyandotte County, Gene Cole Swain is back in business.