This is an archived article and the information in the article may be outdated. Please look at the time stamp on the story to see when it was last updated.
SUGAR CREEK, Mo. -- A metro contractor has been given multiple chances to do the right thing, but weeks later, he still hasn't.
The first time the FOX4 Problem Solvers met contractor Bounmy Suady he made us a promise: He would refund most of the nearly $30,000 he had taken from homeowner June Lowe by the end of the week.
A fire forced her out of her Sugar Creek home. Lowe handed the money over to Suady. He paid Lowe's daughter and another man a few hundred dollars to gut the interior. Then he disappeared.
But when the day arrived to return the money to Lowe, Suady had changed his mind.
He decided he would only refund Lowe's money after he'd written down the scope of the minimal amount of work he'd completed in her fire-damaged home and had her sign it.
He said he'd need a few more days to accomplish that. That was three weeks ago, and the only document he provided Lowe was one claiming he wasn't the contractor she'd hired for the job.
Needless to say Lowe never signed the document and still doesn't have her money.
"Not a single dollar," said Lowe whose Sugar Creek home was damaged by a fire in early April.
The nearly $30,000 she gave Suady was from her insurance company. It was the only money she had to repair the house she shares with her grandson and daughter. The three stayed in a motel or with friends for months while they've pleaded with Suady to either finish repairing the house or return the money they gave him.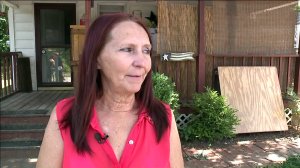 But this troublesome contractor keeps coming with new excuses as to why he won't give back the cash -- all of which is why Suady is now the newest member of the FOX4 Problem Solver Hall of Shame.
Luckily that's not where this story ends. After FOX4 shared Lowe's predicament with the great people at Zucca Roofing, they agreed to repair Lowe's fire-damaged roof for free.
"They were awesome," Lowe said as her eyes filled with tears.
Lowe's Home Improvement also came to Lowe's rescue. Jim Hammonds, manager of Lowe's Independence location, handed a very grateful Lowe a $1,000 gift card she can use toward flooring, drywall and other materials needed to rebuild her home.
That's two good companies helping a woman whose only fault was putting her trust in a contractor who couldn't be trusted.