This is an archived article and the information in the article may be outdated. Please look at the time stamp on the story to see when it was last updated.
KANSAS CITY, Mo. — April 17 was a very bad day for David Ho.
First his Lexus was rear-ended in Kansas City. Then a tow truck showed up. That's when Ho's very bad day suddenly got a whole lot worse.
It's illegal for a tow truck to stop at an accident in Kansas City without first being called by a customer. But some towers repeatedly ignore that law.
24/7 Tow and Recovery – the company that towed Ho's car – has been featured on Problem Solvers before after customers complained the company gouged them on the price after illegally soliciting their business.
Ho said that's also what happened to him. 24/7 agreed to tow his car to his home in Independence for $260. But once at his house, Ho said the 24/7 tow truck
driver claimed Ho had damaged his tow truck and the tow would now cost Ho $460.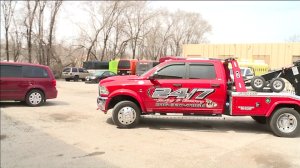 Ho said he didn't have that much cash and tried to pay by credit card, but 24/7 would only take cash.
Since Ho didn't have the money, 24/7 took his car away and brought it back the next day. This time the price was even higher: $780.
According to a police report, when Ho objected to the price again, 24/7 took his car away again. That was more than a month ago, and Ho hasn't seen his Lexus since.
That's why he called FOX4 Problem Solvers. Problem Solvers has done so many stories on 24/7 that the company has removed its name from many of its trucks.
We called 24/7 and spoke to owner William Benfer. Benfer acknowledged he had towed Ho's car. But he said the tow was legal because he had been summoned to the accident by the other driver involved.
There's just one problem with that defense. It's not true. The other driver told Problem Solvers she never called 24/7. The company just showed up to the scene.
So where is Ho's car now? Benfer said it's still on his lot. If Ho wants it back, it will cost him $780 for the tow and one month of storage. Total price tag? FOX4 asked but Benfer wouldn't tell us.
Plus Benfer claimed he's the real victim in this whole mess since he's never been paid for his tows.
With no help from Benfer, Problem Solvers contacted the Missouri Highway Patrol and KCMO Police, both of which are now investigating.
Problem Solvers also contacted Missouri Attorney General Josh Hawley's Office. In past administrations, the attorney general's office has been aggressive about going after tow companies who repeatedly break the law.
Hawley's office said it was "mediating multiple complaints" against 24/7, but wouldn't tell us anything else it was doing to protect Missouri consumers.