This is an archived article and the information in the article may be outdated. Please look at the time stamp on the story to see when it was last updated.
RAYMORE, Mo. — Jocelyn Janes is living proof that Agent Orange, the chemical sprayed over the jungles of Vietnam, did more than expose American soldiers to harm. It also affected their children.
Janes, 34, is one of an estimated 8,000 children of Vietnam veterans born with spina bifida. Her father served there as a Marine.
"It was discovered that spina bifida was the most frequent birth defect among Vietnam veterans' (children)," said Donna Wallis, Jocelyn's mom.
So many children were born with the defect that in 1966 Congress passed legislation guaranteeing those children health care for life through the Veterans Administration.
That law has been a lifesaver for Jocelyn, paying for dozens of surgeries and home health care — until now.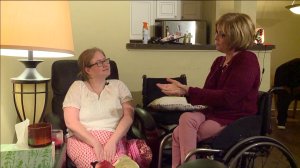 For the last four months, Wallis has been fighting with the VA to pay for her daughter's care, which is now needed around the clock.
"They don't understand their own policies," said Wallis, referring to the VA's spina bifida claims office in Denver.
The VA's own regulations states that 24/7 care is available for spina bifida patients who have a doctor's authorization. Because Jocelyn has that, the VA promised she would receive the benefit.
"We started the paperwork very early in 2018," Wallis said.
A home health company called BrightStar Care begin providing round-the-clock services for Jocelyn in May. But four months later, the VA hasn't cut a single check to reimburse BrightStar for more than $100,000 in services.
BrightStar owner Lindsey Holmgren said there's no explanation as to why.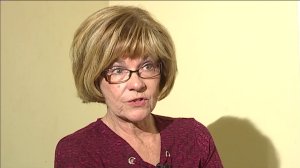 "We've made multiple calls, and the challenge for us at this point is that we are not getting clear answers," Holmgren said.
She can't get past the VA's spina bifida call center to talk to the nurse who's reviewing the claim. Instead, she's stuck speaking to a call center employee who
promises to look into the problem.
"You call and talk to Sally one day, and Sally gives you these reasons," Holmgren said. "You hang up and call the next day and talk to Derrick, and Derrick gives you these (other) reasons."
Without money from the VA, BrightStar can't afford to keep providing services, and Wallis can't afford the tab on her own. Time is running out.
Caring for Jocelyn herself isn't an option for Wallis who has polio and also must use a wheelchair. Plus she's worried about Jocelyn's future once she's no longer here to fight for her.
"I want her care to go beyond my lifespan," Wallis said.
So did Jocelyn's dad, who passed away three years ago from an illness related to his exposure to Agent Orange.
"When he was alive he was very serious about making sure I was taken care of in every way that I needed to be," Jocelyn said.
But without help from the VA, Jocelyn will most likely spend the rest of her life in a nursing home.
FOX4 Problem Solvers called the VA demanding answers. A spokeswoman in Kansas City immediately started looking into the problem. She spent weeks trying to get answers from the VA's spina bifida office in Denver.
Problem Solvers also called Kansas Congressman Kevin Yoder. His staff also went to work maneuvering through the VA's bureaucratic maze.
A few weeks later there was good news: The VA had approved the 24/7 care and partial payment had been received. Although Wallis said the VA offered no explanation as to what had caused the four-month delay, she's grateful to have this problem solved.