This is an archived article and the information in the article may be outdated. Please look at the time stamp on the story to see when it was last updated.
KANSAS CITY, Mo. — Tom Watson has won countless golf tournaments, including 8 major championships, and yet, when he is around members of the U.S. military, he is humbled.
That's why when PGA HOPE (Helping Our Patriots Everywhere), the military pillar of the charitable foundation PGA REACH, asked him to host a clinic for disabled veterans, he happily agreed.
Watson, a Kansas City native, gave free golf lessons to local veterans at Shoal Creek Golf Course on Tuesday. It's all part of the PGA and the VA providing golf as a therapeutic rehabilitation for veterans with disabilities. Tuesday was the kickoff event leading into 5- to 8-week sessions later this fall.
Chris Nowak, a U.S. Marine Corps veteran with PGA of America, said the game of golf can help take a wounded warrior away from some of the trauma they've been through.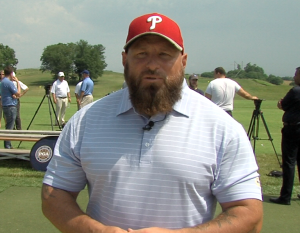 "When a veteran's above the golf ball and he's about to strike that golf ball, they're not thinking about anything else than striking that golf ball," Nowak said. "If you've played the game of golf you know that you cannot be thinking about anything else. So what they're not thinking about is they're not thinking about the trauma that they have experienced, the trauma that they've witnessed and other issues they may be dealing with that are not helping them recover from their injuries."
66-year-old Watson knows a thing or two about losing yourself in golf. He's devoted his life to the game, earning 39 wins on the PGA tour, and was one of the world's leading golfers throughout the 1970s and 80s. He was inducted into the World Golf Hall of Fame in 1988. Despite all his accomplishments, Watson said the honor today was his.
"It's an honor to be amongst these veterans and be able to try to teach them a little bit about what I know about the game of golf," Watson said. "One of the things about the game of golf is when you're on the golf course, you can lose yourself. You can lose yourself in the game and as therapy golf can be used very easily for this."
"Sometimes you need therapy after you play the game," he joked.
Former U.S. Army Sgt. Ron Cherry had a strong military career, before a serious back injury forced him to end active duty. He told FOX 4 last week that the pain in his low back, as well as fits of anxiety and depression, are always at hand.
Cherry, 45, said that injury cost him physical ability as well as quality time he would have spent with family and loved ones. However, the father of six says that being introduced to golf through this program is the empowerment he and other soldiers need.
"To be able to get that from a pro at no charge? That speaks wonders for what this program is doing," Cherry said.
Watson was happy to lend his expertise to the program, given what these veterans have sacrificed.
"A lot of times when you're on the golf course you're thinking of nothing else but golf so it works from a standpoint of getting away from the world, and heaven knows what these people have gone through to do the things they did for our country and they need some respite sometimes from the rest of the world," Watson said.
While Watson praised what the veterans have done for this country, he also commended his fellow professionals who have given their time to the program.
"It goes without saying that I want to say thank you to these people who put their lives on the line for our country," Watson said. "Many other pros have done what I did here today. Many other pros. Unannounced, unsung, they just do it. I've been around them and I know a lot of people who have given their time and their respect back to the military, as it deserves."
PGA HOPE is a two-step program, beginning with an introductory "Down Range Clinic." There are currently 50 programs across 20 PGA sections, enhancing the lives of more than 2,000 veterans nationwide.