This is an archived article and the information in the article may be outdated. Please look at the time stamp on the story to see when it was last updated.
Attorneys coined the word 'affluenza' in the trial of Texas teen Ethan Couch,  who was driving drunk when he killed four people.
His defense team claimed he was so spoiled by his rich parents and shouldn't be held responsible for what he did.
He was given probation.
Now, recent video suggests Couch may have violated his probation at a party, where video shows a drinking game was underway.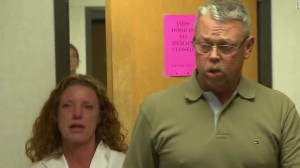 Although Couch's father denied any blame, the owner of a metal roofing company had his own run-in with the law 20 years ago.
In a DWI stop in 1992, the elder Couch didn't deny telling a police officer that 'I make more in a day than you make in a year.'
Fred and Tonya Couch married in 1996, divorced 10 years later, then remarried but then split again after their son's crash.
Ethan Couch was allowed to drink at a young age and even drive himself to school at just 13-years old. When the head of the school questioned that, his father reportedly threatened to buy the school.
Fred Couch once posed as a police officer during a disturbance call and displayed a fake badge, according to CNN.
He was charged with false identification and is awaiting trial.
Tonya Couch worked briefly as a vocational nurse. She reportedly pulled a separate bed into her bedroom so he would be near.
When Ethan Couch was 15, he was caught drinking in a parked pick-up truck, with a naked, passed out 14-year-old girl.  In a deposition, his mother didn't recall punishing him.
Authorities have issued an arrest warrant for Ethan Couch and his mother after he failed to stay in contact with his probation officer.