This is an archived article and the information in the article may be outdated. Please look at the time stamp on the story to see when it was last updated.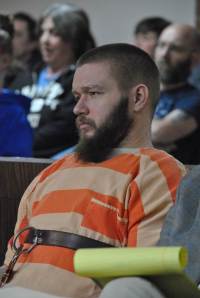 OTTAWA, Kan. (AP) – An eastern Kansas prosecutor has filed a motion seeking the death penalty against a 28-year-old man accused of fatally shooting four people at a rural Ottawa farm.
The Topeka Capital-Journal reports Franklin County prosecutor Stephen Hunting gave copies of the motion Tuesday to District Judge Eric Godderz and two defense attorneys for Kyle Flack.
Flack stood silent during his arraignment as Godderz entered a not guilty plea on his behalf.
Flack is charged with two counts of first-degree murder for the deaths of 30-year-old Andrew Stout and 31-year-old Steven White. He also is charged with capital murder in the deaths of 21-year-old Kaylie Bailey and her 18-month-old daughter, Lana-Leigh Bailey.
All four were killed with a shotgun in late April or early May last year.