This is an archived article and the information in the article may be outdated. Please look at the time stamp on the story to see when it was last updated.
KANSAS CITY, Mo. -- Kansas City Police arrested a handful of protesters Friday evening for "stopping the flow of traffic" in a protest over the death of Michael Brown in Ferguson, Mo., in August and the decision by a grand jury not to indict Officer Darren Wilson.
Word of the protest spread on social media, with the hashtag #NotOneDime being used around the nation to organize the protests, intent on temporarily stopping Black Friday shoppers so that their message could be seen and heard.
The march on the sidewalk at the Country Club Plaza was relatively small, compared to similar #NotOneDime marches at a St. Louis-area mall or in Oakland, Calif., or in New York City.
A few protesters laid their bodies on the ground in what is being called a "die-in". A similar demonstration occurred Thursday night at the Plaza Lighting Ceremony.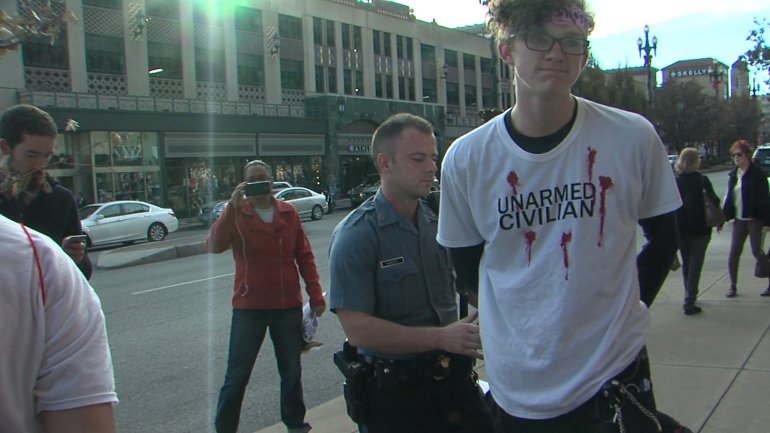 A t-shirt worn by one demonstrator had the words "Unarmed Civilian" printed on it and red marks resembling bloody bullet wounds.
As innocent big eyes watched on, dozens of protesters hit the family packed streets of the Plaza.
"Black lives matter more than Black Friday...more than getting a deal on a flat screen tv...more than a coach bag. Black lives matter more than that," protester Ryan Tenney said.
"Out of the shops and into the streets!" protesters chanted.
"This is the most important day to show unity and show that we aren't going anywhere. Corporations depend on us, if we can stand united then we have a real chance in making a difference," protester Auset Noyr said.
The protesters say they plan to continue this through the holidays. Some shoppers on Friday didn't mind the protesters' message that the conversation about racial justice needs to continue in this country.
"Everything that's ever happened started with a conversation. Being courageous to stand up for what you believe in. So I'm thankful that these children are here," said Noyer.
But other shoppers were annoyed.
"It's not doing any good. It's just upsetting people. What the point of it?" Leon Phillips, a shopper said.
Early in the evening, police said they made four arrests in that Plaza protest
.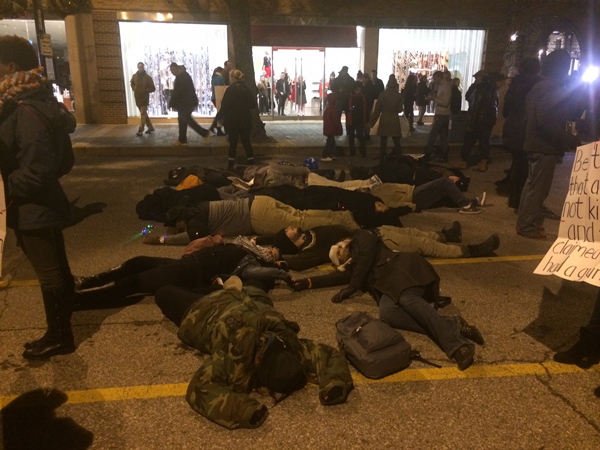 Earlier report: