This is an archived article and the information in the article may be outdated. Please look at the time stamp on the story to see when it was last updated.
KANSAS CITY, Mo. — An enormous mural called 'Harmony on the Vine' is being installed at the American Jazz Museum at 18th and Vine, and the artist who created it hopes the community will come out and add their own touch to it.
The mural is expected to eventually span 150 feet. On First Fridays, the mural will be open for anyone who wants to come get a paint brush and paint their assigned portion.
"Most people who don't feel that they can be very creative, this type of process makes art accessible to most people. You basically give them a paintbrush, you give them a color of paint and direct them to paint a specific spot and they feel comfortable in doing that. They get into it and you have to rip the brush out of their hands," said Michael Toombs artist/director for Arts Tech, who designed and sketched the mural.
The mural features the bands, buildings, scenes and signage that capture the vibrancy of the 18th & Vine Jazz District. It consists of nine panels that are 8 feet tall.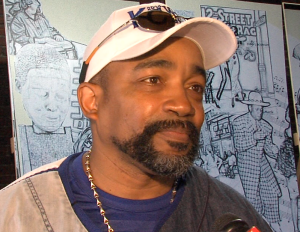 "What actually motivated it, 'Harmony on the Vine' was the director of the 18th and Vine wanted to do something to address the issues of all the strife that's going on in our country right now and in the various communities and she felt that jazz was a way to bring people together," Toombs said.
He hopes everyone will come down and put their mark on it. The Community Art Project begins at 3:30 p.m. until dark on First Fridays at the American Jazz Museum. Because of the murals vast size, fifty people will be able to paint at one time, for 30 minute segments.
"What we'd like to see happen with this mural is that everyone that comes down and puts their mark on it, we're going to take this mural, blow it up and have it installed, we can't say where yet, but we're going to have it installed, but when it is, it'll be there for years and years to come and you'll be able to bring your kids and your family and say I did that right there."
For more information, click here.