This is an archived article and the information in the article may be outdated. Please look at the time stamp on the story to see when it was last updated.
KANSAS CITY, Kan. -- A surprise guilty plea from a KCK cop killer is raising lots of questions.
Jamaal Lewis was originally charged with capital murder for the killing of KCK Police Capt. Dave Melton. But on Thursday morning, he pleaded guilty to first-degree felony murder, a lesser charge.
Both Wyandotte County Mayor David Alvey and the KCK Police Union issued scathing statements slamming District Attorney Dupree for the guilty plea.
Alvey's statement read:
"Today, at what was scheduled to be a routine pre-trial hearing, Jamaal R. Lewis pled guilty to a reduced charge of felony murder in the shooting death of Kansas City, Kansas Police Captain, Robert Melton.  This plea was made possible when Wyandotte County District Attorney Mark Dupree amended the charges, from capital murder with the possible sentence of life in prison, to include the alternative charge, felony murder."
"Lewis was originally charged in 2016 with capital murder, for which the only sentencing possibilities are the death penalty or a life sentence without the possibility of parole. Today's plea allows for the possibility of parole after only serving 25 years.
"I am deeply concerned that this plea does not match the exceptionally serious nature of this capital crime. I am also disturbed that neither the victim's family members, nor our law enforcement community, were alerted to the possibility that this plea was taking place today" says David Alvey, Mayor/CEO of the Unified Government of Wyandotte/Kansas City, Kansas.
"This plea, which allows for the possibility of Mr. Lewis being released from custody after only 25 years, is a de facto devaluation of victim's rights and the daily sacrifices of our law enforcement community. By all appearances the facts and evidence of this case support a prosecution for the charge of capital murder and nothing less."
See the Fraternal Order of Police Lodge 4's statement at the bottom of this story.
Dupree also issued a statement in reply, saying in part "any statements that indicate a plea agreement was reached are inaccurate."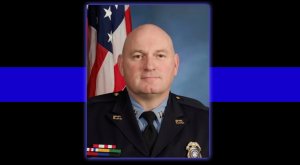 "Lewis entered said plea without any agreement from the state, and the plea was accepted by the court. There is no agreement in this matter," Dupree said. "A criminal defendant may plead guilty to any charges against him at any time." Read Dupree's full statement here.
The court paperwork filed by Lewis's defense team outlining the details of the guilty plea is also titled: Petition to enter plea of guilty without plea agreement.
In it, Lewis admits to killing Melton and outlines how he did it.
"If I had a client who was charged with capital murder and the state allowed him to plead to felony murder, I would consider that one hell of a deal," criminal defense attorney James Spies said.
Spies, who doesn't represent Lewis, started his career in as an Assistant District Attorney in Wyandotte County. He's worked on both sides of the fence.
"It is a plea agreement in the sense that the state has allowed him to plead guilty to a lesser charge, a charge that is not capital murder, and in so doing by virtue of that agreed not to proceed with a prosecution of capital murder," he said.
Capital murder carries a sentence of life in prison without the possibility of parole. First-degree felony murder is punishable by life in prison with the possibility of parole after 25 years.
Spies said Dupree allowed the guilty plea to the lesser charge.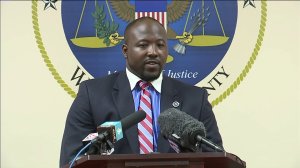 "If the defense attorney informed him that his client was going to plead guilty to the felony murder charge, at any point in time, before he entered that plea of guilty, the DA could have dismissed that alternate count and informed the defendant that he could proceed to trial on capital murder or plead guilty to capital murder. Those are his two options," Spies said. "So by allowing him to plead guilty to that alternate count he, in effect, entered into a bargain with that defendant."
Lewis was originally charged with capital murder in July 2016. The first-degree felony murder charge was added by Dupree on Oct. 5. Court records do not indicate there was ever a preliminary hearing on the added charge.
"As a defense attorney, I would say you can't just add a charge now. If you are going to, then we want a preliminary hearing on that because that could be an alternate means for my client being found guilty at trial, and we haven't had a preliminary hearing on that for the judge to decide if there is even probable cause to establish that charge," Spies said. "Unless we talked about it and he said I am going to add this and somewhere down the road we are going to let your guy plead to that."
Spies added that he does not see how the guilty plea was not the result of a deal because Lewis is getting the benefit of pleading guilty to felony murder and not going to trial on capital murder to face life in prison without parole. The charging or dismissal of crimes is completely at the discretion of the district attorney.
FOX4 reached out to Dupree and Lewis's attorneys to get an explanation on why the guilty plea is not the result of a deal. None of them have responded at time of publication.
---
Scott Kirkpatrick, president of Fraternal Order of Police Lodge 4, issued the following statement:
"Today, the family of Captain Dave Melton, the members of the Kansas City, Kansas Police Department, and FOP Lodge #4 were completely blindsided by the plea of Captain Melton's killer. Now, instead of facing the death penalty or life in prison without the possibility of parole, this cold-blooded murderer of a police officer will be set free after only serving 25 years.
"The plea occurred without any input from Captain Melton's family. Mr. Dupree failed to take the necessary legal steps to stop this plea before it occurred. When the Melton family questioned him, Mr. Dupree, instead of explaining the situation, berated the family choosing to focus more on his personal reputation than the justice he is obligated to seek for the commission of this heinous crime.
"In his subsequent statement to the media, Mr. Dupree has refused to accept responsibility for his incompetent decision to include this lesser offense in the charging document.
"Captain Melton's murder was unquestionably premeditated, and his killer deserved the maximum possible sentence under the law.
"Mr. Dupree shirked his legal responsibilities to keep our community safe by committing this error that any seasoned prosecutor would never have made. His enormous mistake allowed Captain Melton's killer to escape the appropriate punishment for this capital crime. It is a travesty of justice.
"With this, and the other countless examples of Mr. Dupree's incompetence, the FOP and its members will work tirelessly to ensure that he only serves one term as District Attorney."