This is an archived article and the information in the article may be outdated. Please look at the time stamp on the story to see when it was last updated.
CHINA — Parents of a little girl in China thought she was napping when instead, she wandered over to an open window and fell out.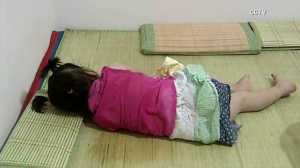 Thankfully, delivery men on the street below saw what was happening and went in to catch the child.
Her only injury is a cut on the face.
Watch the video in the player below to see how it happened!