This is an archived article and the information in the article may be outdated. Please look at the time stamp on the story to see when it was last updated.
Good advice: Know your opponent before you step into the ring.
One Instagram user quickly learned that lesson when he left a snide comment on an anti-Trump post by a famous musician, calling him out for being just another clueless celeb jumping into politics without a real grasp on the issues. He quickly learned that his target, Rage Against the Machine guitarist Tom Morello, was far from clueless.
Morello posted a photo of himself next to a guitar with the words "F–k Trump" scrawled across it. Instagram user davez67 commented, "Another succesful musician instantly becomes a political expert"
Morello made short work of this criticism with a biting reply.
"One does not have to be an honors grad in political science from Harvard University to recognize the unethical and inhumane nature of this administration but well, I happen to be an honors grad in political science from Harvard University so I can confirm that for you." He later posted a screenshot of the exchange with the hashtag #HomeSchooling.
davez67 has since deactivated his account.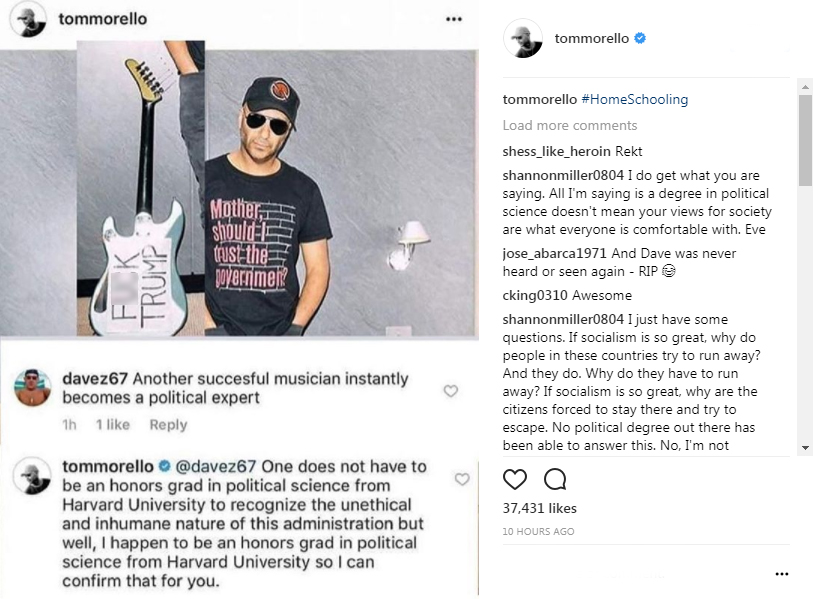 Morello graduated from Harvard with honors in 1986, and from 1987 to 1988 worked in the office of California Democratic Senator Alan Cranston.
Morello formed Rage Against the Machine with front man Zack de la Rocha in 1991, which became one of the most popular and influential rock bands of the 90s. He would go on to perform with other major acts Audioslave, Bruce Springsteen and the E Street Band, and currently, Prophets of Rage.