This is an archived article and the information in the article may be outdated. Please look at the time stamp on the story to see when it was last updated.
RAYTOWN, Mo. — A 43-year-old Raytown man is charged with killing his neighbor after putting him in a choke hold, but some believe the incident may be a case of a drunken mix-up.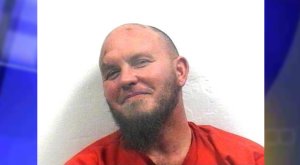 Michael G. Augustine is charged with 1st degree involuntary manslaughter in the death of 60-year-old Clifton King.
King died in his front yard Friday night, after he came to his door to find Augustine, one of his neighbors, trying to come inside.
Neighbors told FOX 4 that Augustine, who lives further down the block, believed that it was his home, and that King had broken in.
During the incident, Augustine called 911 to report that he had an intruder in a choke hold. But when officers arrived at his address, no one was there. They later found both men about a block up the street at King's house.
According to court documents, police believe Augustine was drunk because his speech was incoherent and officers noted a strong smell of alcohol.
A neighbor, who did not want her face to appear on camera because the incident has made her concerned for her own safety, said she watched paramedics try to revive King — a military veteran — for about half an hour.
"He served our country and that was not an honorable way to treat him," the woman said. "I think that it's sad. It's sad! Someone had to give up their life because someone was so messed up they didn't know it wasn't their home."
Other neighbors said that King had been homeless at one time in his life because he couldn't find a job, but since moving on the block, neighbors said he was friendly and kind.
Some feel guilty about not immediately calling police themselves when they heard the commotion. They said there are often arguments on the block, and some say it's better for them not to get involved.
Prosecutors have charged Augustine with first degree involuntary manslaughter, but neighbors said he's already posted bond and moved out of the area. There was no answer at his door when we tried to speak with him.