This is an archived article and the information in the article may be outdated. Please look at the time stamp on the story to see when it was last updated.
KANSAS CITY, Mo. — Prosecutors have charged a Raytown man in the Saturday quadruple shooting that left one woman dead, Jackson County Prosecutor Jean Peters Baker announced Tuesday.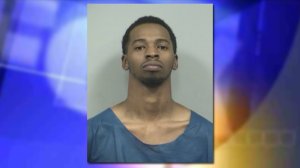 Deandre M. Jackson, 24, of Raytown, Mo. is charged with 2nd degree murder, unlawful use of a weapon, thee counts of 1st degree assault, and five counts of armed criminal action.
Court records say Jackson fired into a stranded vehicle with four women inside near 21st and Cleveland on Saturday, killing 25-year-old Maryanna Pennington and injuring the three others.
An investigation revealed that the women's car was stopped due to a broken front axle. The women had called for help.
A witness told investigators Jackson opened the front passenger door and shot into the vehicle. Nearly three dozen spent shell casings were found at the scene near the vehicle.
Witnesses and victims also identified Jackson as the shooter.
One witness said he had been fighting with one of the victims earlier that day.
Jackson County prosecutors have requested a $500,000 cash bond.