This is an archived article and the information in the article may be outdated. Please look at the time stamp on the story to see when it was last updated.
RAYTOWN, Mo. — A nonprofit that serves families within the Raytown School District is asking for help.
Managers at the Raytown Emergency Assistance Program said they've been hit by criminals twice within the past two weeks, leaving them without transportation.
When people in Raytown need help with meals or paying rent or utility bills, they go to REAP. Now, that agency needs help, after reporting a pair of crimes. The first happened Nov. 1 when agency managers say someone vandalized the van that`s used to deliver meals to hungry people.
Michael Watson, the agency's manager, said the vandals drilled holes in the van's fuel tank while trying to steal gas.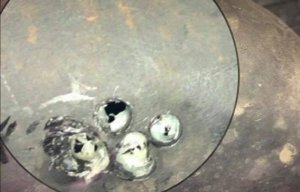 "It was empty when we went to fill it up," Watson said.
When REAP's volunteers drove it back, the gas remaining in the tank leaked out onto the parking lot. A long trail of gas absorbing powder, "kitty litter," as many call it, remains on the blacktop.
Watson said he's searching for a new gas tank for the 2004 Chevrolet Express Van, but it's proving to be a challenging search.
"It's a tedious process," Watson said.
Surveillance pictures show a silver four-door sedan pull onto REAP's property for 5 minutes the night of that incident. However, cameras couldn't capture the driver's face.
"As a nonprofit, you don't budget for vandalism. You have insurance, but then you have to pay a deductible. All of those things also add up," Watson said.
Watson, who has held his position for a year, said REAP helps up to 50 families in the Raytown area each month with food and utility costs. He said REAP volunteers are taking turns picking up and delivering donations in their personal cars.
Ann Verlinden is a longtime volunteer at the nonprofit, who can't believe what's going on.
"Normally, this is a very safe environment," Verlinden told FOX4. "It's bad enough with an organization that can afford it, but we find that's a strain on us when something like that happens."
A separate incident took place Oct. 26. A volunteer reported his gas-powered weed whacker was stolen while he did yard work at the nonprofit. Security recordings from that day show a red Honda sedan pull up and drive off with the tool.
"It's incidents like that that discourage you for a moment, but we remember why we're here," Watson added.
Watson said if the people who committed these crimes had asked for help, REAP would have come to their aid. Instead, there`s a pair of expensive items he has to replace, and he has no clue where the money will come from.
If you know who's to blame for these crimes, you're asked to call the TIPS Hotline at 816-474-TIPS. FOX4 reached out to the Raytown Police Department on Monday, but our call wasn't returned.