This is an archived article and the information in the article may be outdated. Please look at the time stamp on the story to see when it was last updated.
RAYTOWN, Mo. — A 14-year-old girl is in custody, accused of sending out a series of messages on social media on Sunday that showed a gun, seemed to threaten Raytown schools, and then blamed it on bullying.
The images were quickly circulated on other social media outlets.
FOX4 reached out to Raytown Police, who said they were notified of the threats around 2:55 p.m. Sunday afternoon and received hundreds of calls.
Police began an investigation with the Raytown School District, which led them to the 14-year-old female Raytown student.
Police say the student did not attend school Monday, nor was she on a school bus Monday. Detectives learned that the photos that contained images of firearms were actually copied from another social media profile from out of state. The student did not physically possess the firearms. The student admitted that she made the threat because she did not want to go to school Monday.
The Raytown School District was notified that police took her into custody. She was transported to the Jackson County Juvenile Justice Center.
Police say there is no evidence of any other threat to safety associated with this incident.
"The Raytown Police Department would like to thank the Raytown School District and the Federal Bureau of Investigation (FBI) for their immediate assistance in the investigation. The Raytown Police Department also appreciates the Jackson County Juvenile Justice Center, the Kansas City, Missouri Police Department and the Bureau of Alcohol, Tobacco, Firearms and Explosives (ATF) for their assistance with school security and extension of resources," police said in their news release.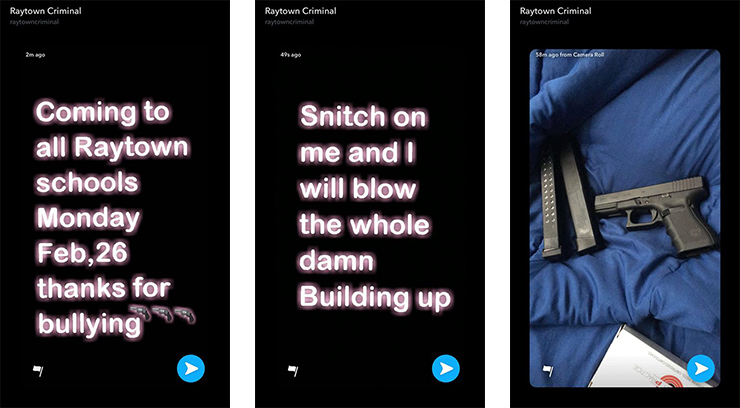 Earlier story: