This is an archived article and the information in the article may be outdated. Please look at the time stamp on the story to see when it was last updated.
KANSAS CITY, Mo. – Congressman Emanuel Cleaver is co-sponsoring legislation that would ban "bump stocks." They are legal attachments that can make a semi-automatic rifle fire off multiple rounds, similar to a military weapon. On Sunday, he told FOX 4 the proposed legislation is getting support from both sides of the aisle.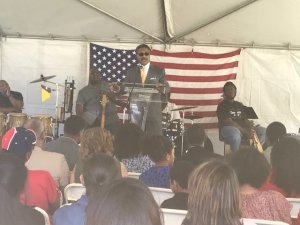 "At least we are recognizing we should have an impact on reducing the number of these mass killings," he said.
Cleaver said he feels 95 percent certain that bump stocks will be outlawed.
"The argument is going to be whether or not we are going to do it through one of the federal law enforcement agencies or whether or not we are going to codify it and pass a law," he said.
Cleaver said he is happy to see support across party-lines on the issue.
Cleaver also talked to FOX 4 about his thoughts on NFL players kneeling during the national anthem.
He said he would have chosen to protest differently but that he respects what the players are doing. He said he doesn't see it as disrespecting the flag or men and women who fought for our country.
"I see that the president has been successful in changing the whole conversation, and he's changed it, made it more about patriotism and the players are going to lose because the majority of Americans are going to focus on that part," he said. "All of the other things that caused [Colin] Kaepernick to start doing this are not even going to be discussed."
Cleaver said the original message of the protest has been lost and it's turned into a cultural issue that is creating a disunity between blacks and whites.