This is an archived article and the information in the article may be outdated. Please look at the time stamp on the story to see when it was last updated.
KANSAS CITY, Mo. -- Just hours after an apartment building on Kansas City's southside went up in flames, crews were on the scene ready to help residents sort through their charred belongings.
The fire, which forced dozens of people from their homes, destroyed a large portion of the Coach House Apartments early Tuesday morning.
We're told six to nine apartments are affected and about 25 people are looking for new places to live after fire ripped through their building earlier today.
The flames were so hot, they even burned some of the cars parked near the building. Now those people are trying to figure out what to do next.
"I heard some explosions, and the building started to shake," said Chris Hanch, one fire victim.
"We saw flames coming up over the roof. The whole neighborhood was just bright orange," Caleb Hickey, another fire victim, said.
Those who call the Coach House Apartments home awoke to loud popping sounds, similar to fire crackers, around three this morning.
"There were cars on fire, and the gas tanks were exploding," Hanch said.
70-year-old Chris Hanch said he's only lived here about 4 months. He was asleep in his apartment, right next to where the fire started.
"The fire hit the building and started going up the side of the building, and you can see the roof, it destroyed the top two apartments, and mine is subterranean, so there's a concrete wall. So that kind of saved the fire damage, but all the water being poured on it just seeped down into my apartment, ruining just about everything," Hanch explained.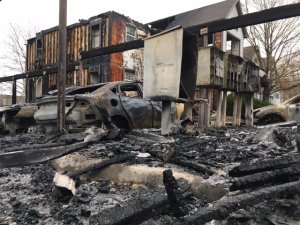 Hanch said he threw on some clothes, grabbed his dogs, and ran outside. He stood about 100 yards away as he watched his building go up in flames.
"Well first, just get the heck out of there. I'm an artist and writer, and I have 40 years of my writing and photography and artwork, some of it, in the apartment," said an emotional Hanch. "I had in a plastic container, and fortunately the manager went over and looked this morning, and it was salvageable. It was okay because there was only water, and the container was plastic."
Hanch said the ceiling of his place collapsed and damaged anything the fire and water didn't.
He said it can all be replaced. He's just thankful nobody got hurt
"The shock has worn off, so I'm very emotional right at the time. I liked living where I was living, and me and my two dogs had our routine, and it's gone right now," Hanch said. "It's kind of hard when you're my age and disabled to have to start all over again."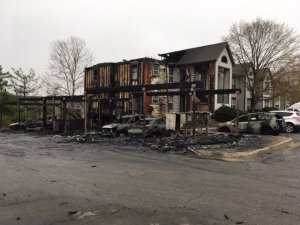 Investigators are still trying to determine the cause of the fire, but said it may have been from those fireworks people living here reported hearing.
The community has since stepped up to help in the immediate aftermath of the fire by bringing food, clothes, and gift cards to the Red Bridge YMCA down the street for anyone who might be in need.