This is an archived article and the information in the article may be outdated. Please look at the time stamp on the story to see when it was last updated.
KANSAS CITY, Mo. — Instead of celebrating freedom this Independence Day, a group of protesters in Kansas City said they're fighting to get it back.
The group is trying to raise awareness about the Fourth Amendment, while condemning government spy programs.
They call themselves "Restore the Fourth." They're part of a national movement that began after Edward Snowden, a former government contractor, leaked details of a National Security Agency surveillance program.
The NSA gives the government broad access to internet traffic, phone call records and other electronic communications.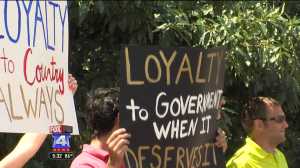 "I'm really hoping we educate people," said protester Kat Amundson. "I feel like there's a lot of people who just aren't really interested in the news. [They] aren't paying attention these days and that's why some people aren't more outraged about what the government is doing with their surveillance programs."
The Fourth Amendment protects citizens' assets, both physical and digital, against searches and seizures without warrant. These protesters are using the holiday to assert those rights.
"More than anything, to celebrate what founding fathers did for America and what independence really should mean," said Amundson.
The group says their only option is to stand strong and keep at it until their voices are heard.
"If we don't, then this sort of corruption is going to keep on happening."
The protests are happening in more than 100 cities across the United States on Thursday.