This is an archived article and the information in the article may be outdated. Please look at the time stamp on the story to see when it was last updated.
TOPEKA, Kan. — Kansas native and U.S. Sen. Bob Dole was honored Friday at his alma mater in Topeka.
It was a special day on campus as the bronze statue of one of the longest serving senators in U.S. history was unveiled at Washburn University.
"We are here to celebrate a great American hero and statesman," university President Jerry Farley said.
They placed the statue in front of Carnegie Hall, a central location on campus, hoping to inspire generations to come.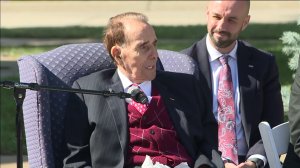 "It's been a wonderful experience representing the people in this audience, and I am very proud and humbled by my friends, and I don`t know what else to say," Dole said as he teared up over the honor.
The 95-year-old veteran and presidential candidate spoke to the crowd about bipartisan leadership, stressing the need for compromise in the Senate and between people in our nation.
"Working with our many, many friends on the Democratic side, as well as our Republican colleagues, to try to make a difference in America," Dole said. "It's the greatest country on the face of the earth, and I was very proud to serve."
Former Kansas Republican Sen. Lana Oleen said she remembers when Dole stumped for her campaign back in the 1990's.
"After we finished our event he said, 'We've got some time. Let`s go to the veterans hospital and say hi to people,'" Oleen said. "That's the kind of guy he is, and he remains that way. So special to so many Kansas."
Dole remains special to many within the state, young and old, and Farley hopes Dole's journey and example will impact students walking through campus for generations to come.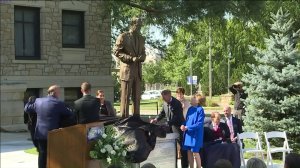 "Many of them were not born when he ran for president of the United States, but when they read the material, they read the plaque, they'll see what he has done in his lifetime, and they'll realize that they are part of that being part of the Washburn community," Farley said.
The community of Washburn, Kansas and our nation — it's a community Dole will always have a place in years after he passes.
"I'm a proud Kansan. I love this state," Dole said. "I love the people in the state whether they're Democrats, Republicans, Independents. You serve the people. You don't serve only members of your party. You serve everyone in her state."
The statue took seven months to construct and was put together by a Kansas native. It was funded privately through donations from Dole's friends.
Dole graduated from Washburn in the 1950s with a bachelor and doctorate degree after serving in World War II.