This is an archived article and the information in the article may be outdated. Please look at the time stamp on the story to see when it was last updated.
RICHMOND, Mo. -- For the last month, a Richmond freshman has been afraid to go to school after he says one of his teachers pushed him.
"I just worry about my safety and if could happen again because it was out of nowhere when this happened," Tyler Adams told FOX 4's Robert Townsend.
"You can tell in his voice that he felt like he was hurt," Tyler's dad Austin Berg said. "He called me at work and was very upset."
The 15-year-old told his father on Feb. 12 he was sitting in his algebra class at Richmond High School, "doodling and not paying attention to his teacher."
Within moments, Tyler said his male teacher first walked by and kicked his desk. The boy said when he threw his book on the floor, his teacher told him to leave the classroom.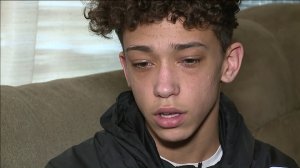 "I told him I thought what was going on was stupid, and then he pushed me, and I fell back into my chair," Tyler said. "I just feel like I am now profiled at school."
"He just feels like the school's against him," Berg said.
Tyler's dad believes it happened because his son is biracial. Berg said his son didn't provoke the alleged assault from the teacher he said has only been at the school for a few weeks.
"For an incident to happen during the short time he's been there and other students stating he did do it -- I mean, all the kids in the classroom saw it," Berg said.
Berg tried to talk to the school's principal, John Parker.
"I asked him if I can at least have copies of my son's statements or copies of the students' statements to give the police," Berg said. "He informed me he was gonna hold on to those and not give them to me."
On Thursday, when FOX 4's Robert Townsend asked the principal about the 15-year-old's claims, Parker declined to comment.
Two days ago, Parker himself made the front page of Richmond's local newspaper.
Three female students said two years ago when they were sophomores at Richmond High, Parker allegedly made them "bend over to show him if the length of their shorts was in district dress code."
When FOX 4 asked Parker about those allegations, again Parker replied "I can't comment."
In the meantime, Berg said if the school district doesn't remove the teacher his son claims pushed him, he'll pursue legal action.
"Yeah, I'm talking to my lawyer," Berg said. "Tomorrow, I plan to e-mail the superintendent about it, and I'll give him a few days to take action. Something must be done. It's been too long."
Berg said administrators did honor his request to put his son in another algebra class.
FOX 4 has reached out to the school district regarding both incidents, but so far we haven't heard back.