This is an archived article and the information in the article may be outdated. Please look at the time stamp on the story to see when it was last updated.
HAMBURG, Germany — Russia's foreign minister says President Donald Trump has accepted Russian President Vladimir Putin's assurances that Moscow didn't meddled in the 2016 U.S. presidential election.
Sergey Lavrov made the claim to reporters following Trump and Putin's lengthy meeting on the sidelines of an international summit in Germany.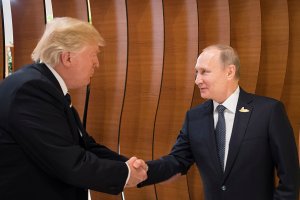 That account appears at odds with Secretary of State Rex Tillerson's description of the meeting.
Tillerson said the president was "rightly focused on how do we move forward from what may be simply an intractable disagreement at this point."
U.S. intelligence officials have blamed Russia for election hacking and other efforts to influence the election to help Trump win.
---
Meanwhile, U.S. Secretary of State Rex Tillerson briefed the media on the nearly 2½-hour meeting Friday between Presidents Donald Trump and Vladimir Putin, saying they talked about the current nature of relations between the two countries as well as the future of that relationship.
He also said commented on the announcement that Russia's military police will monitor a cease-fire in southwestern Syria, saying the agreement with Russia on a cease-fire in Syria is "our first indication of the U.S. and Russia being able to work together" there.
The area covered by the cease-fire affects Jordan's security and what Tillerson calls a very complicated part of the Syrian battlefield.
For years, the U.S. and Russia have been backing opposing sides in Syria's war, with Moscow supporting Syrian President Bashar Assad and Washington supporting rebels who have been fighting Assad. Both oppose the Islamic State group in Syria.