This is an archived article and the information in the article may be outdated. Please look at the time stamp on the story to see when it was last updated.
JACKSON COUNTY, Mo. — A Saint Bernard found injured in a ravine in rural Jackson County has a long recovery ahead.
Sheriff's deputies found the 3-year-old dog Monday after a good Samaritan realized he was trapped. He was taken to Great Plains SPCA where they gave him the name Horton.
"He was injured and couldn't get out himself," said Mandy Stark, director of marketing at the nonprofit. "They kind of had to haul him out, brought him to us and we were able to assess right away that he a very complex break."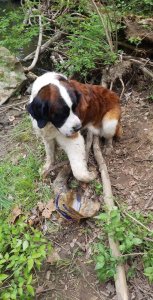 X-rays showed Horton has a broken and dislocated bone on one of his front legs. He also has an old pelvic fracture. As if the little guy wasn't dealing with enough, veterinarians discovered he has heartworms – a parasite that lives in the heart and can cause it to clog.
"We don't know much about his history but given that he has these injuries and was wondering, he's not neutered, heartworm positive, we're guessing he's kind of been on his own for a while," Stark said.
Veterinarians put a temporary cast on Horton's leg on Tuesday. Apparently, he's already showing signs of improvement.
"You can just see the relief in his eyes," Stark said. "He's just moving a little bit better, getting regular food and water. That makes a difference."
Horton is going to need surgery, which alone is expected to cost around $6,000. It doesn't cover the treatment and recovery he will endure over the next couple of months.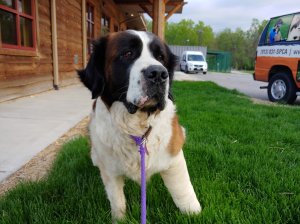 "Bones are really important on large animals and then trying to figure out what's going on with his heartworm and trying to get the best treatment there, we have a lot bills we're looking at for this poor guy," Stark said.
She added that Great Plains SPCA gets a lot of cases like Horton's on a "regular basis."
"Sometimes these animals get lost, they can't find their way back to their owner, maybe they were dumped or neglected somehow but we do encounter that from time to time," Stark said.
If you would like to help Horton, click here. You can also make a donation on Great Plains SPCA Facebook page.