This is an archived article and the information in the article may be outdated. Please look at the time stamp on the story to see when it was last updated.
KANSAS CITY, Mo. -- Salvador Perez isn't just the World Series Most Valuable Player, he's also one of the most valuable Kansas City Royals players to fans. Just ask one seven-year-old girl,  he's an MVP in her eyes for sure!
"He's funny because he jokes around with his teammates," said Jordyn Garvey, who turned seven the same day as the Royals parade on Tuesday.
"She started watching the Instagram videos of him always hounding Lorenzo Cain, she loves watching those and laughing and giggling at those, and I think that`s how she fell in love with him," said Jordyn's dad, Jake.
Jordyn let Perez know it was her birthday by holding the sign she made for the parade: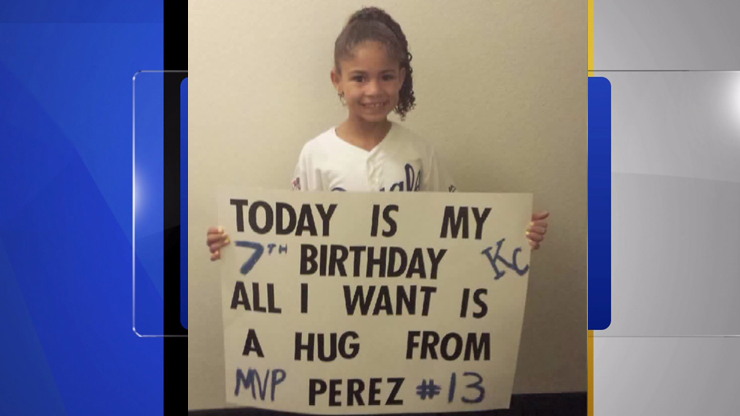 Jordyn and her family stayed overnight in a hotel close to Union Station for her birthday. They got up early to walk.
"We got a good spot, because our grandpa was saving a spot for us," Jordyn added.
But as Salvy passed by -- little Jordyn was one of 800,000 people.
"He didn't see me," she said.
"The first time they came down the parade route, he was looking the other way and didn't see her, so it was actually after the rally she went over and stood on the fence where they came out and saw her," added Jake.
"He just walked over there and lifted me over the barricades," said Jordyn. "I was feeling nervous."
"Everybody was chanting and hollering and pointing straight at her," Jake said.
"They were pointing at me going, 'Salvy! Salvy!'" added Jordyn.
Jordyn's dad says she couldn't believe it.
"She came running through the crowd, and was really excited...she was a little star struck," her dad said. "That`s amazing, just to take the time for one little girl, to make her day like that, out of all those people down there he could have picked, he picked her."
"He`s my favorite player, and I was always dreaming about that, for that to happen," said Jordyn.
Jordyn's mom posted the picture on the Kansas City Royals Fan Club Official Facebook page -- and it already has more than 22,000 likes.