This is an archived article and the information in the article may be outdated. Please look at the time stamp on the story to see when it was last updated.
KANSAS CITY, Kan. — The Schlitterbahn water slide that a little boy died on, spurring investigations and charges against several water park officials, is coming down.
Schlitterbahn has been under intense scrutiny in the past few months. Ten-year-old Caleb Schwab died at the park in 2016 while riding the Verrückt water slide. The raft he was on went airborne and hit a metal pole overhead.
As a result, the KCK water park — along with a Schlitterbahn co-owner, slide designer, former park operations manager and two maintenance workers — was charged in connection to the boy's death.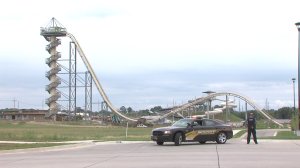 Because the Verrückt was part of the investigation, the KCK water park was not allowed to tear it down. But as soon this September, the water slide will be coming down.
All the defendants charged in connection with Caleb's tragic death appeared in court Thursday where the water park and county officials agreed to start deconstruction of the water slide.
In the past, Schlitterbahn told FOX4 it would tear Verruckt down the moment the court would allow it. Now the company will wait about 8 more weeks until after the summer season wraps.
Because the work would impact park operations, the deconstruction will likely start after Labor Day. Schlitterbahn has made arrangements to make that happen and expects it to take about three weeks.
Previous coverage: