This is an archived article and the information in the article may be outdated. Please look at the time stamp on the story to see when it was last updated.
OLATHE, Kan. — Some people in the Olathe community and surrounding communities became alarmed over a rumor that a student in an elementary school had Ebola.
On Monday, the Olathe School District posted an announcement to allay fears and assure them the story is false. The Kansas Department of Health and Environment said Tuesday that it is not investigating any case of Ebola in the state of Kansas.
It isn't just Olathe where fears over Ebola have moved onto the playground.
On Friday, a group of students attacked two of their peers at I.S. 318 in the Bronx while yelling "Ebola" at the brothers who had recently returned from Senegal, the boys' father told CNN affiliate News 12.
The New York Department of Education confirms the incident occurred, saying the boys were pushed and shoved.
Ousmane Drame, the boys' father, told News 12 the boys felt so upset by their experience that they want to go back to Africa.
"These people call me Ebola," Drame said one of his sons told him. "They don't even want to know my name." (Scroll down to see video/interview with the boys' father.)
"We will not tolerate intimidation or bullying of our students," NYC Schools Chancellor Carmen Farina said in a statement, "especially in this moment when New Yorkers need to come together."
'The stigmatization of Ebola'
Farina added that her office is investigating and that they've sent staff to "mediate the incident."
A local advocacy group thinks the problem is potentially larger.
Charles Cooper of the African Advisory Council said these young children are bearing "the stigmatization of Ebola and something needs to be done."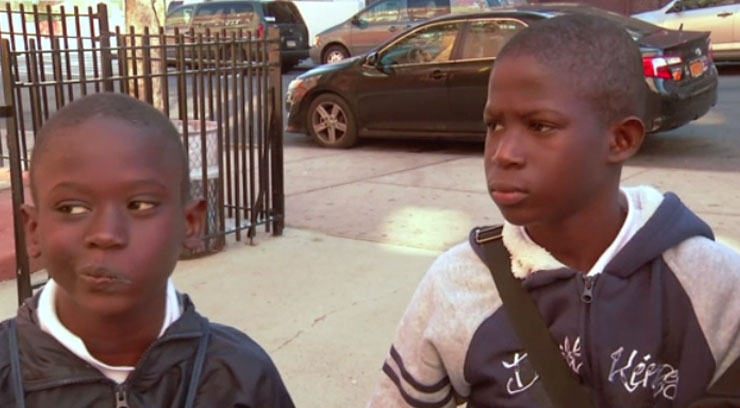 The boys, according to the their father, were born in the United States. Senegal, the country they returned from, has had only one case of Ebola. On October 17, the World Health Organization declared that nation free of Ebola.
But perception isn't always fueled by fact.
In the first week of October, the CDC received 800 calls from Americans concerned about Ebola.
When a doctor in Manhattan became that New York City's first Ebola patient, everything he'd touched since he returned from Guinea came under scrutiny. A bowling alley he visited underwent decontamination as headlines asked if Ebola could be transmitted via a bowling ball.
Poll on Ebola attitudes
According to a new CNN poll, 81% of Americans polled think it's likely someone in the United States will be infected with Ebola in the next few weeks.
But only about a quarter think that will happen in their community. A slight majority approve of the federal government's handling of the disease and fully 71% are confident the feds can prevent a nationwide outbreak.
But the poll did show that three in 10 would like non-citizens traveling from West Africa to be prevented from entering, even in absence of any symptoms.
"We cannot allow the Ebola epidemic to stigmatize a single population," said U.S. Rep Jose Serrano of New York.
The congressman, who represents the part of the Bronx where the two boys were attacked, said in a statement: "Ebola is not a West African problem, or even an African problem, it is a global health concern. Instead of feeding into the fear and discriminating against others, we need to come together in solidarity as we grapple with this terrible disease."
Or as Cooper with African Advisory Council put it to News 12: "We don't want to see any of our children being bullied in any school. They are there to learn and they're there to be kids."