This is an archived article and the information in the article may be outdated. Please look at the time stamp on the story to see when it was last updated.
KANSAS CITY, Mo. -- A new activist group called 'Indivisible KC' delivered its 'Faces of the ACA' photo scrapbooks to U.S. senators from Kansas and Missouri on Thursday. The scrapbooks contain 89 stories of ordinary Missouri and Kansas families whose lives have been impacted by the ACA.
"We want to get stories out about the human face behind the Affordable Care Act. So, we've been collecting stories of Missouri and Kansas families that are affected by the ACA. We started soliciting these on Facebook and by Twitter and they just came rolling in. I started on this last Friday and I've gotten 89 stories of Missouri and Kansas families who don't want the ACA repealed," said Hillary Shields, Organizer of Indivisible KC.
On Thursday. a team from Indivisible KC went to the Overland Park and Olathe offices of Senator Pat Roberts and Jerry Senator Moran, both Republicans, and delivered scrapbooks. Their scrapbooks had the stories of the Kansas families. There were 40 stories in each book of people affected by ACA.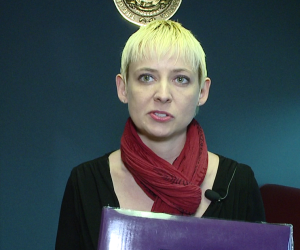 "I think they listened. I don't think they were really happy to have us but they received the books and, I don't know…," Shields said and shrugged.
Then, in the afternoon, they went to friendlier territory, Sen. Claire McCaskill's office.
"We really appreciate that Claire has been supporting the ACA," said Shields.
"When I started this project, I cared about this issue but when I started reading these stories, I just; some of them made me want to cry. We have stories of children with serious medical conditions whose families couldn't afford health care before the ACA.  It just blows my mind that anyone would want to take away their care," she said and then told the story of Izzy, an 8-year-old from Lee's Summit.
"She has cystic fibrosis and when she was two-years old she was about to hit her lifetime coverage cap. She was going to lose her access to healthcare and then the ACA passed and she was able to keep getting the treatment that she needed. Her family didn't have to go bankrupt and that's why I'm here because Izzy's story deserves to be told," said Shields.
To learn more about Indivisible KC, email them at IndivisibleKC@gmail.com.
Indivisible KC Facebook page link.