This is an archived article and the information in the article may be outdated. Please look at the time stamp on the story to see when it was last updated.
This is the best slate of holiday movies in a long time. Here are the notable titles appearing at your local cineplex.
THE GIRL WITH THE DRAGON TATTOO (R)
RUSS: An English language version of the lurid Swedish entry "The Girl With the Dragon Tattoo" might have seemed like a bad idea at first blush. But in the skilled hands of director David Fincher and stars Daniel Craig and Rooney Mara, it all works. It's a compelling and unnerving guilty pleasure that earns its "R" rating.
SHAWN: "The Girl with the Dragon Tattoo" is absolutely brilliant. It's a contemporary masterpiece that's dangerously sexy, haunting, a bit lurid and cleverly executed. Daniel Craig is more 007 in this movie than he's been in any James Bond flick he's been in to date. And Rooney Mara as the Goth hacker Lisbeth Salander is simply phenomenal. She digs in like a rodent on steroids and never re-emerges. In order to understand Lisbeth's journey you have jump into the tunnel that has been dug by Mara as Lisbeth and be willing to never return. Yes, you'll get dirty and yes, you'll be bruised but you will never forget the experience. And it's one heck of a wickedly delicious journey. The movie is a tad too long, a bit depressing and raw to the core but it stays on course with it's source material. No, this is not a remake of the 2009 Swedish film. It's the second adaptation of the first book of the popular series of books written by Stieg Larsson. And job well-done. Props to Fincher, Mara and Craig.
RUSS: 4 Popcorn Bags
SHAWN: 5 Popcorn Bags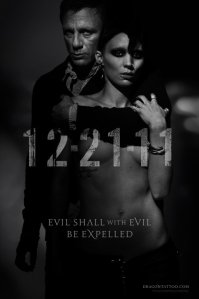 MISSION: IMPOSSIBLE - GHOST PROTOCOL (PG-13)
RUSS: "Mission Impossible: Ghost Protocol" is notable for being the first live action movie directed by Oscar-winning animator, Brad Bird. It's fitting that the man who gave us "The Incredibles" offers an eye-popping action adventure flick. The action is, well, "impossible," but the visuals are spectacular, especially in IMAX.
SHAWN: Tom Cruise is back and in a major way. "Ghost Protocol" is by far the best of the "Mission: Impossible" movies. This is also easily the most exciting movie of the year as a director known for producing classic animated features ("The Iron Giant" "The Incredibles" and "Ratatouille") takes over and delivers some of the sickest stunts ever seen on screen while expertly guiding the story and terrific cast. There are several single scenes worth the full price of admission. As a whole "Ghost Protocol" is the best bet of the season. It's truly a wild ride and highly energized espionage thriller.
RUSS: 4 Popcorn Bags
SHAWN: 4 Popcorn Bags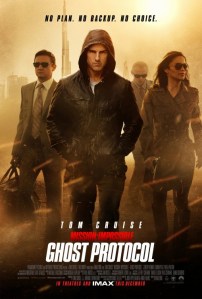 WE BOUGHT A ZOO (PG-13)
SHAWN: If you are looking for a wholesome family movie then "We Bought a Zoo" is the perfect movie. It's the feel good movie of the year. Completely inspiring and totally motivating director Cameron Crowe delivers another timeless classic. It is however, by far director Cameron Crowe's most conventional and tame movie. That's not a negative but it is worth noting. Not nearly on the same level as "Almost Famous" or "Jerry Maguire" but still plenty of wonderful moments. Matt Damon and Scarlett Johansson star in what's basically a sophisticated version of Dr. Doolittle without the talking animals.
RUSS: The title says it all in "We Bought a Zoo," Cameron Crowe's sentimental family comedy starring Matt Damon and Scarlett Johansson. It's amiable, sweet-natured, innocuous, well made…and forgettable.
RUSS: 3 Popcorn Bags
SHAWN: 3 Popcorn Bags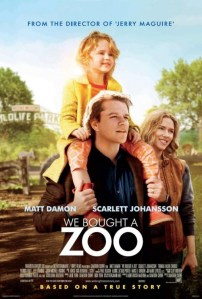 THE ARTIST PG-13
RUSS: "The Artist" is a heartfelt Valentine to moviemaking. Largely silent and shot in glorious black-and-white, "The Artist" is set in late 1920s Hollywood and tells the story of a silent movie star who struggles when the talkies came along. French filmmaker Michel Hazanavicius has made the year's best film, a funny, touching and thoroughly brilliant movie that transcends its gimmick to become a genuine work of art.
SHAWN: This year's eventual winner of the Oscar for Best Picture is "The Artist." Yes, it's a silent movie and yes, it's in black-and-white. And no, you won't see a more magical movie perhaps ever. Loved it.
RUSS: 5 Popcorn Bags
SHAWN: 5 Popcorn Bags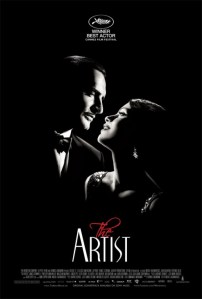 WAR HORSE (PG-13)
SHAWN: Steven Spielberg's overly dramatic and overly sentimental sap fest "War Horse" would have been a lot better if the horses talked. Of course the technical elements are flawless but the story is overly weepy and dare I say, a little too 'Speilbergesque.'
RUSS: Steven Spielberg strikes again with "War Horse," a live action film based on the popular children's book and hit play. It relates the adventures of a singularly remarkable horse during the tumultuous WWI years. It's a beautifully photographed and involving melodrama that works in spite of the fact that the story is very sentimental and highly improbable.
RUSS: 4 Popcorn Bags
SHAWN: 3 Popcorn Bags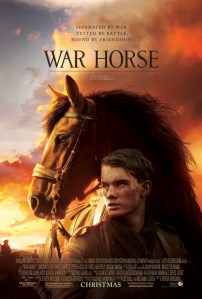 ALSO IN THEATRES THIS WEEK:

THE ADVENTURES OF TINTIN (PG) -Steven Spielberg strikes again with his first animated directorial effort, a big screen adaptation of the popular European comic strip. This "motion capture" computer animated movie plays a bit like "Indiana Jones-lite." The screenplay isn't as compelling as the terrific visuals, so the movie is a mixed bag.

YOUNG GOETHE IN LOVE (Not rated, opens on Dec. 23) -This romantic drama from  Germany focuses on the early years of the famed poet.

THE DARKEST HOUR (Opens on Christmas Day) -Yet another alien invasion flick invades theatres this holiday season. This time, those sneaky extraterrestrials get in through the energy supply. Emile Hirsch stars.
EAMES: THE ARCHITECT AND PAINTER (Not rated) - James Franco narrates this documentary about the influential designer.