This is an archived article and the information in the article may be outdated. Please look at the time stamp on the story to see when it was last updated.
PRAIRIE VILLAGE, Kan. -- It's been more than a week since a Buckner, Mo., woman with Alzheimer's went missing. On Sunday, the search has now entered day 8 for Hellen Cook.
The family told FOX 4 they have gotten a number of tips from getting the word out in so many different areas, like Clinton and Liberty, where searches were going on Sunday.
CONTINUING COVERAGE: Search for Hellen Cook
Tips are also coming away from as far as Ohio. But, Cook remains missing after walking away from her Warsaw, Mo., home on July 13.
Cook's family said they haven't gotten much sleep, but now have to figure out how to go forward since many of them have to go back to work.
"Yesterday was, you know, at 11:30, it was a hard time for us because that was the last time she was seen, a week ago," said daughter Terri Cook.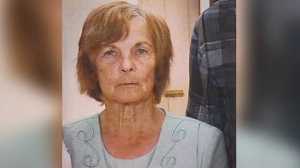 The family is plastering photos of the mother, grandmother, great grandmother and wife everywhere. And new this weekend, electronic billboards have been donated.
"It's sad," her husband, Howard Cook says. "The first thing I think about is the time that she spent without medication."
That's part of the reason Cook's family is teaming up with the Heart of America chapter of the Alzheimer's Association on Sunday.
A part of their support now, families who have been through similar situations. Stephanie Moore, wife of Kansas congressman Dennis Moore, who is battling Alzheimer's and Kansas State Sen. Greg Smith, whose daughter was kidnapped and killed in 2007, and whose mother suffered from Alzheimer's before she died.
"Any time we get involved in one of these things, it takes you back," said Smith.
But Hellen isn't the only one. The association said since Cook has disappeared 10,000 people have been diagnosed with the disease.
The association and family said to know the symptoms, seek help and have plans in place, so other families don't have to go through what the Cooks are going through.
The Alzheimer's Association said there is a lot of guilt in these cases, but know it's not anyone's fault.
The Cooks say they're trying to balance how to continue searching for their loved one while trying to continue with a somewhat normal life.