This is an archived article and the information in the article may be outdated. Please look at the time stamp on the story to see when it was last updated.
KANSAS CITY, Mo. -- A 16-year-old Kansas City teen will stand trial as an adult in the deadly shooting of one teen and wounding another earlier this year.
Xavier I. Jones faces charges of second degree murder, first degree assault first degree robbery and three counts of armed criminal action for the murder of 15-year-old Jesus Reyes and wounding another 16-year-old victim after they were shot inside a vehicle in the area of 16th Terrace and Bennington in April 2018, according to the Jackson County Prosecutor's Office.
Reyes was pronounced dead when police were called to the area of Truman and Hardesty. The victim that survived the shooting told police that the shooter, identified as Andrew Rodriquez, 17,  was with Jones, who passed a gun to Rodriquez just before he shot the two victims.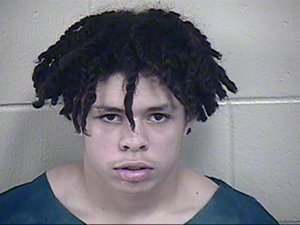 According to the probable cause statement, the teen who survived the shooting told responding officers that he knew Rodriquez from school and had planned to buy a gun from him. After they handed over money, they were shot. Police later arrested the two suspects in a home nearby. After obtaining a search warrant, police found several guns, along with what appeared to be narcotics. While being held for interrogation, one suspect was overheard admitting to the other that he shot the victims.
Rodriquez, who is also standing trial as an adult, was charged for second-degree murder, three counts of armed criminal action, one count of first-degree assault and one count of first-degree robbery.
Prosecutors have request that Jones's bond be set at $500,000.