This is an archived article and the information in the article may be outdated. Please look at the time stamp on the story to see when it was last updated.
SEDALIA, Mo. -- The Sedalia man accused of holding captive a woman and routinely placing her in a wooden box since January remains on the loose and a warrant has been issued for his arrest. James B. Horn, 47, has been charged with kidnapping, armed criminal action and unlawful use of a weapon, but his whereabouts are still unknown.
The woman was able to escape her home in the 800th Block of E. 15th St. Thursday night and run to a neighbor's house to call 911, according to police. The woman told police that the  suspect was holding her captive and would place her in a wooden box when he went to work.
According to the probable cause document,  police found sleeping bags, reading material, flash lights and a bucket full of urine and feces inside the wooden box. The box was described 100 inches long, 48 inches wide and 52 inches tall. The box had been sound-proofed but contained a small hole for air. It was found near the southwest bedroom.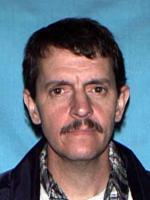 The woman was never reported missing because neighbors would see them outside together. Police said they believe the relationship between the woman and the suspect reportedly began as consensual but eventually became controlling. The woman told police she was not allowed to leave.
Prosecutors said Horn became violent towards the woman in January. The woman told prosecutors that on one occasion Horn pushed her to the ground and repeatedly kicked her. The woman said Horn tried to force her into the trunk, but she convinced him to let her ride on the floor board of the front seat where she was covered with a blanket.
When the two arrived back at home that night Horn began building the wooden box, according to prosecutors. Police say Horn made the woman help construct the box.
According to the probable cause statement, the woman told police that Horn took her phone after the altercation and occasionally sent messages to her family to prevent any suspicion of problems.
The woman told prosecutors that Horn kept a long knife near him, which made her fear for her life and prevented her from running away.
In 1992, when James Horn was 24-years old he was accused, and then convicted of kidnapping and sexual battery in Shelby County, Tenn. His girlfriend at the time said she'd been dating him for about five weeks when she broke up with him. She said she awoke the next day to find him rummaging through her closet. She said he put duct tape over her mouth and hands, and forced her to have sex with him.
He then tied her hands behind her back with shoe strings and forced her outside and into his 18-wheel truck. She says he drove her to a bridge, then pulled over and forced her to have sex with him again while her hands were still tied.
They stayed at that location for about seven hours, she said. In the meantime, her mother reported her missing.
Horn then brought her back to her apartment the next day at about 5 a.m., and the victim called police.
Prosecutors filed charges against Horn, who pleaded guilty to kidnapping and sexual battery. He was sentenced and was released from custody March 14, 1995, according to Tennessee court records.
Then in July of 1996, while a divorce was pending between Horn and his estranged wife, he used a ladder to crawl through the attic of the home where she and her eight-year-old daughter were living, according to Mississippi court records. He then locked the eight-year-old in a closet, and proceeded to rape and then kidnap his estranged wife.
During the kidnapping, he made her take out money from ATMs before locking her in a car trunk and taking her to Springfield, Mo. He threatened to kill her and repeatedly abused her during the kidnapping. An FBI SWAT team later rescued her at a Kansas City, Mo., motel where Horn had a knife held to her throat. He pleaded guilty to interstate kidnapping and was sentenced to 12 years and 9 months in prison followed by 5 years of supervised released.
He was released in December of 2011 and began his period of supervised released, which was transferred from the Northern District of Mississippi to the Western District of Missouri in February of 2012.
Police said Horn is still at large. Horn is described as 5'11" tall, 175 lbs.
His vehicle was located south of Sedalia in Pettis County, Mo. shortly after police responded to reports of the woman being held captive.