This is an archived article and the information in the article may be outdated. Please look at the time stamp on the story to see when it was last updated.
COLUMBIA, Mo. — Democratic U.S. Sen. Claire McCaskill on Friday said she doesn't take seriously a longshot Republican candidate for her seat who is facing criticism for his comments about women.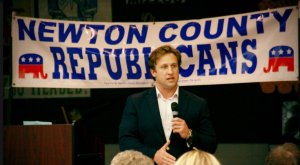 McCaskill said after a campaign event at the University of Missouri in Columbia that she feels sorry for Courtland Sykes if he really believes the remarks he recently posted on Facebook.
Sykes wrote, of his fiancee, "I want to come home to a home cooked dinner at six every night, one that she fixes and one that I expect one day to have my daughters learn to fix after they become traditional homemakers and family wives."
"I don't want them grow up into career obsessed banshees who forego home life and children and the happiness of family to become nail-biting manophobic hell-bent feminist she devils who shriek from the tops of a thousand tall buildings they are think they could have leaped over in a single bound — had men not 'suppressing them,'" Sykes wrote.
Sykes did not immediately return Associated Press requests for comment Friday.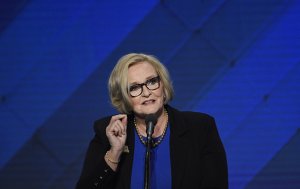 "I don't really take him seriously," McCaskill told reporters, later adding that "if he's trying to get attention, it maybe is working."
Sykes' rhetoric has drawn attention, but much of it negative. He spoke to the Washington Post to explain those comments he wrote about women's rights on his campaign Facebook page, in which railed against what he called "radical feminism."
"They made it up to suit their own nasty, snake-filled heads," he said. "Men and women are different and gender-bending word games by a goofy nest of drugstore academics aren't going to change anything — except the fantasy life of those confused people in ivory towers."
He told the Washington Post "he did not intend the statement about 'feminist she devils' to be an indictment of women with careers, noting that he counted some women he used to work with as mentors. 'There are amazing women with amazing careers,' he said. 'You take Kellyanne Conway or Sarah Huckabee Sanders. These women absolutely should be celebrated.'
Sykes faces steep odds to get the Republican nomination. Attorney General Josh Hawley is widely considered to be the frontrunner.
Republican strategist James Harris, who worked with Hawley when he entered the race for attorney general, said Sykes is not a credible candidate.
"This guy's not ready or qualified to run for dogcatcher, much less U.S. Senate where you have to recognize that your words matter," Harris said.
Sykes is relatively unknown. As of the most recent campaign finance reports through the end of September, he had raised $500.