This is an archived article and the information in the article may be outdated. Please look at the time stamp on the story to see when it was last updated.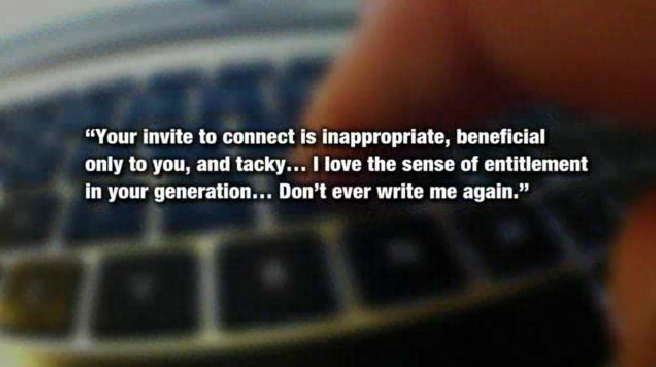 CLEVELAND – A senior marketing communications professional and self-proclaimed 'Job Bank Mother' has recently come under fire on multiple social media platforms, after a young job-seeker posted a harsh email response she received from the veteran businesswoman.
According to Cleveland.com, Diana Mekota says she sent a request to Kelly Blazek, who is the head of a well-known communications job bank in northeast Ohio, to connect on LinkedIn, a social media professional networking site.
According to Mekota, Blazek's responded to her request with an email titled 'Poor Judgment on your Job-seeking Strategy.'  In the email, Blazek seemed to delight in denying her connection and the tone was anything but friendly.
According to FOX 4's sister station, FOX 8 Cleveland, another man, Rick Uldricks, has come forward with an email response he says he received from Blazek after he emailed her about no longer receiving the Yahoo! Job Bank email blasts from her group.
**Watch FOX 8's report at the bottom of this page**
RELATED: Another job-seeker claims he had a similar email encounter with Kelly Blazek
"Your invite to connect is inappropriate, beneficial only to you, and tacky," Blazek wrote in the email to Mekota. "Wow, I cannot wait to let every 26-year-old job-seeker mine my top-tier marketing connections to help them land a job. I love the sense of entitlement in your generation. And therefore I enjoy denying your invite, and giving you the dreaded 'I Don't Know' [blacked-out name] because it's the truth," typed Blazek. "Oh, and about your request to actually receive my Job Bank along with the 7,300 other subscribers to my service? That's denied, too. I suggest you join the other Job Bank in town. Oh wait – there isn't one," said the email.
All of this came from the woman, who in 2013 had been named the International Association of Business Communicators' (IABC) 'Communicator of the Year' in Cleveland, an award which recognized her service to job-seekers.
"We have never met. We have never worked together. You are quite young and green on how business connections work with senior professionals…," the email said.
To read the rest of the reported email, click here.
According to Cleveland.com, despite being instructed not to, Mekota sent an email back to Blazek explaining her intentions and apologizing for the obvious misunderstanding and miscommunication. She says she told her she only wished to connect through LinkedIn to give Blazek access to her online resume.
Mekota said Blazek never responded back.
Following the lack of response, Mekota took to social media sites, posting photos of the emails to her online audiences on Facebook, imgur and reddit.
Since then, hundreds of people in Cleveland have reached out to her, calling Blazek a bully and apologizing for her poor representation of senior marketing professionals in the area. Several Cleveland area business and communications professionals spoke out against Blazek, and some also posted to IABC's online story about Blazek and her 2013 award, saying they should rescind the award and called her an embarrassment to the entire organization.
Within hours of the emails going viral on Twitter, Blazek issued a statement and apology.
"I am very sorry to the people I have hurt," said Blazek.
She went on to say that she "had become shortsighted and impatient" and hurt the very people she set out to help.
"The note I sent to Diana was rude, unwelcoming, unprofessional and wrong. I am reaching out to her to apologize," the response said.
Mekota, according to the Cleveland.com report, is a recent John Carroll University graduate and had recently moved back to her home state of Ohio from New York. She had also submitted an application to become part of Blazek's job board.