This is an archived article and the information in the article may be outdated. Please look at the time stamp on the story to see when it was last updated.
WARRENSBURG, Mo.  — The work that's been done is a mess.
"They were supposed to finish this whole room," said 88-year-old Charles Hogue, pointing to a clearly unfinished sun room in his home.
The paneling was buckled and didn't even reach the ceiling. The floor was uneven. One of the windows was covered with a sheet of wood after a worker broke the glass when Hogue wasn't there to let him inside the house.
Hogue paid the same losers to put a new roof on his house. Instead of tearing off the old shingles, they slapped new shingles on three already existing layers.
A roofing expert said the job doesn't just look bad — it's dangerous. The roof could collapse under heavy snow or ice because of the added weight from so many layers of shingles. Plus, the gutters aren't even connected to the downspouts.
And there's more bad work inside. The sump pump installed in the basement doesn't work, neither do the lights.
Remnant and warped paneling was used to remodel the dining room walls and is even on the ceiling. A newly installed door doesn't open.
How much did Hogue pay for this mess? More than $100,000 — so much money that he's had to take out pay day loans just to cover his daily expenses.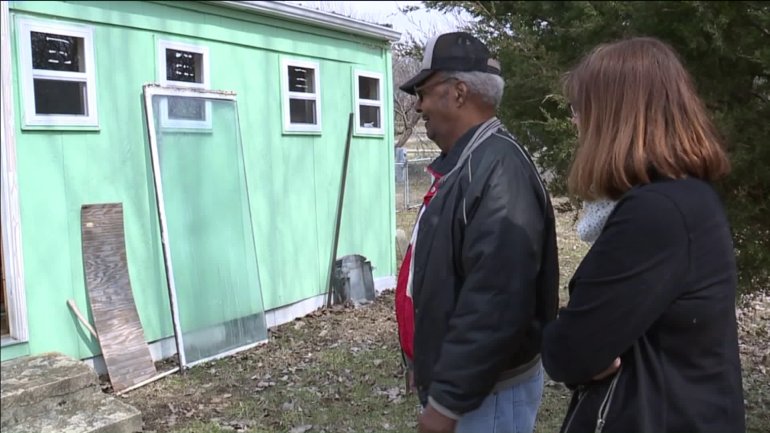 Hogue was the latest victim of a company that goes door-to-door across Missouri preying on the elderly.
"I trusted the people," said Hogue who lost his wife last year. "They called me Charlie. They said, 'Charlie, you are a good person. You're a friend.' I fell for it."
Hogue isn't alone. Eva Hradetzky, 81, is out more than $60,000 for work on her Kansas City home in the Waldo neighborhood.
"My Roth IRA is gone and stock also," said Hradetzky, a retired cellist with the Kansas City Symphony.
Diana Clarke, 71, lost more than $3,000. She said the workers tried to collect even more money from her for work so shoddy it was dangerous, but she stopped answering the door.
"I just wanted them to go away," said Clarke, with tears filling her eyes. "I just wanted it to stop."
So what kind of home repair company left these elderly so broke and so upset?
It's an Osceola-based company that has gone by a variety of different names, but currently calls itself All American Roofing. It shouldn't be confused with All American Roofing in Olathe, which has been in business for 30 years and has a solid reputation.
The people running the Osceola company are all from the same family.
Dad Ken Collins is in charge and his sons Kenny Junior, Stephen and daughter Stephanie work for him. They all have criminal records, but only dad Ken has been convicted of stealing.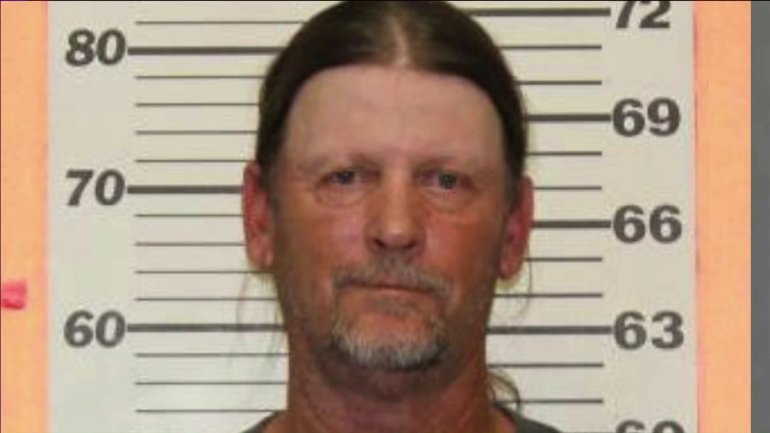 In 2010, Butler police arrested Ken Collins after he was accused of financially exploiting three elderly people while working on their homes. The charges against him were later dismissed after Collins served two years of unsupervised probation and repaid a small portion of the money.
"Kenny can make you believe whatever he wants you to. He's got a way of talking to people," said Mindy Coleman, who was once related to him by marriage and has seen him convince elderly homeowners to give him large amounts of cash. "They should have to repay those people."
The children of many of the Collins' elderly victims aren't even aware their parents are in trouble — until it's too late.
"When we got involved, both of his bank accounts were in the negative," said Charles Hogue Jr., whose father gave the Collins more than $100,000.
The children only learned about what was happening to their father after a bank teller in Warrensburg alerted senior services who then called them.
Hogue's children demanded Ken Collins show them receipts for the thousands of dollars in materials he had supposedly purchased for their father's house. He never did.
FOX4 Problem Solvers tried to find Ken Collins, stopping by the home of another elderly Kansas City couple whose roof he was replacing. We learned about that job after the couple called to complain that more than two months had passed and their roof still wasn't completed.
Ken Collins wasn't there, but we met his daughter Stephanie. She said she just worked for her dad and brothers and was not to blame for any problems.
She put her dad on the phone so we could talk to him. Ken Collins told us that everyone who had complained about him was lying.
"We can just order up a polygraph test on anyone … who says things aren't true and we see whose telling the truth," Collins told FOX4.
We asked to talk to him on camera so that he could give a full version of his side. But he clearly wasn't interested.
"I'm not doing s**t on camera," he said. "What the hell is wrong with you people?"
Of course, that's exactly the question many victims would like to ask him.
Hogue has filed a complaint with the Johnson County (Missouri) Sheriff's Department, which is now investigating the Collins family's business practices. We'll let you know what happens.
If you are also a victim, we urge you to contact your local sheriff's department or the Missouri Attorney General's Office.